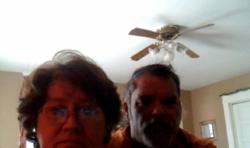 Very soon, all of our utilities will be turned off
Oklahoma (PRWEB) December 05, 2012
John Valenzuela, a 14 year Army veteran is running a crowdfunding campaign on CrowdfundingVets.com to try to raise funding to pay medical bills and urgent living
expenses while his VA benefits are pending. John is also a 2 year AmeriCorps alumni and he worked more than 8 years for the American Red Cross assisting in disasters such as Hurricane Katrina and others. John has spent his life giving to others. Now he needs us to give him a hand.
"An accident that I had while in the military has caused me to become disabled with severe back and leg problems. For the last 2 years, I've suffered greatly", John explained. "I am on massive amounts of pain medication and expect to have back surgery in the upcoming months. My wife is disabled, as well, and I have a teenage son that I am unable to support. Very soon, all of our utilities will be turned off and we are in danger of losing our only vehicle which means I won't be able to go to any doctor appointments. And to make matters worse, Christmas is coming and our son may once again have to do without, due to my limitations."
The Valenzuelas have used all of their savings and sold everything of value that they have. They have exhausted all outside resources such as friends, family, local organizations and churches. Now they are turning to crowdfunding to try to raise much needed resources.
"I have filed for VA and SS disability but the process is long and frustrating," Mr. Valenzuela declares. "Now we don't know where to turn for help. We thank God that our home is secure - only because a dear friend of ours is letting us live here rent free. Our last hope is through the Crowdfunding Vets program. We've got high hopes that our current and retired brothers and sisters in the military will chip in to help us out in this time of need - pay it forward, as it were. It is our prayer that we can use this forum to help us through the next couple of months. We don't need a lot of funding - we have certainly learned how to get by on very little."
Homelessness is one of the largest threats facing veterans today. Veterans comprise a large percentage of the homeless population. CrowdfundingVets.com is trying to make a difference in the lives of our national heroes by providing them a forum to meet their pressing needs, so that they don't join the statistics.
"As a whole, U.S. Veterans are a proud group of people. To see them reduced to asking for scraps, is a sad commentary on our current system," said Robert Dobyns, CEO of Conzortia Business Funding, Inc., the website's owner. A former Army Specialist, Dobyns holds a special place in his heart for his fellow patriots. "I hope that, in some small way, I can use my talents to help military families in need, like the Valenzuela family."
To learn more about how Crowdfunding Vets works or to assist the Valenzuela family with their fundraising campaign, visit http://www.CrowdfundingVets.com