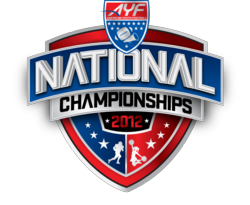 New York, NY (PRWEB) December 04, 2012
American Youth Football (AYF), the world's largest youth football and cheer organization, will welcome close to 17,000 athletes, families, coaches and parents to Orlando, Florida for the 2012 American Youth Football and Cheer National Championships.
The event, the nation's largest of its kind, is at the centerpiece of AYF's mission of all-inclusiveness, offering kids of all ages, weights and skill level a chance to play for a national title.
"The AYF National Championships is our shining event," said Joe Galat, President of American Youth Football. "This week will focus on safety, sportsmanship and fun competition for everyone from the athletes and coaches to their families."
Games will be kicking off all week long, and in between the action, kids will have the opportunity to take part in Nike Football Youth Training Clinic as well as learn proper tackling fundamentals from the Tackling Academy powered by School of the Legends. In addition, Universal Studios Islands of Adventure will host a private party to celebrate the athletes and their families, and cheer squads from all over the nation will meet old and new friends alike at the hottest party, The AYC Just Dance 4 Spirit Party.
To get an inside look into all things Nationals, the American Youth Football and Cheer National Championships special will air January 1st, 2013 at 3:30pm on the NBC Sports Network. Don't miss all the action.
For any information regarding the 2012 American Youth Football and Cheer National Championships including scores, pictures and videos go to http://www.ayfchampionships.com or log on to Facebook.com/American Youth Football.
About American Youth Football:
AYF is an independent 501(c)(3) non-profit organization that provides support services, scholarships, grants, giving back programs and tournaments to over 1 million members in 50 states and several countries worldwide. AYF is the nations largest youth football organization and is committed to Giving Back; since its inception in 1996, AYF has donated over $15 million dollars in grants and athletic product to communities that support youth football. AYF was the first national organization to offer all-inclusive football divisions, enabling every child a place to play. For more information visit the website at http://www.americanyouthfootball.com.