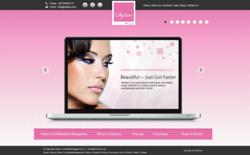 Stylista is one part beauty app, and one part business application, and an all around full-time virtual personal assistant.
Wellington, Florida (PRWEB) December 05, 2012
At a festive gala featuring celebrity stylist Nick Arrojo and a performance by NBC season three The Voice contestant Michaela Paige, Salon Confidential Magazine debuted their long-awaited world of color issue, dedicated to the science of hair color.
The gala was held in honor of the relaunch of Visions Salon and the color group of Wellington, whose work is prominently featured in Salon Confidential Magazine's Fall/Winter 2012 issue. Among the models that appear in the world of color is NBC's The Voice season three contestant Michaela Paige sans mohawk.
Salon Confidential Magazine is uniquely positioned as a beauty, style, fashion, and glamour publication written by actual cosmetologists for the benefit of salon clients. Salon Confidential is a publication that seeks to highlight the numerous advantages of clients choosing professional salon products and brands preferably to products that can be bought in retail outlets. Earlier this year SC published a review of Redken Chromatics hair color which enjoyed a huge surge among SC's online followers, the success of that article led to a followup article on Redken Chromatics, and then a comparison article illuminating the differences between Redken chromatics and Goldwell Elumen, these articles had such a tremendous online response that it convinced Salon Confidential to devote almost an entire issue to the topic of hair color.
Gala event attendees also got a first look at Stylista by S.C. a brand new cloud-based mobile social network created by Salon Confidential Magazine for creative and/or beauty professionals as well as their clients. Stylista is being submitted to the Apple app store as an iPad app but is also currently available online as a web app. Stylista is part of a growing trend that is seeing more and more beauty clients turn to the ease and appeal of booking online for their next beauty appointment or service. Upon its release Stylista will offer clients a way to browse businesses and/or salons, view pricing and portfolios and book appointments hassle-free, 24/7, in real time.
For business and/or beauty professionals, the innovative software comes pre-loaded with user-friendly marketing tools, record-keeping functions, mobile POS (point-of-sale), as well as merchant services and payment gateway, which can modernize any salon or cosmetologist's business by making it completely mobile. Clients can then access the network from any computer, smart phone, tablet or mobile device and use it to book services on the go, get real-time availability of a preferred service provider, as well as receive news, updates, and promotions from any subscribed salons. As an added bonus, Stylista-member clients will receive complimentary beauty and fashion-related content – beauty blogs, makeup tutorials, how-to's and videos, current hair styles and makeup trends, plus the latest news from the world of fashion – all automatically. Stylista is one part beauty app, and one part business application, and an all around full-time virtual personal assistant.
The software is currently in beta and available for trial and/or purchase for interested salons and cosmetologists by contacting Salon Confidential Magazine directly at: info(at)salonconfidentialmagazine(dot)com