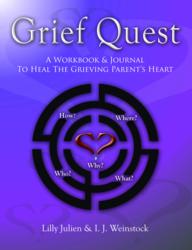 The award-winning book "Grief Quest"—which the authors call a "pilgrimage of the heart"—has been endorsed by grief experts and may provide the bereaved a healthy antidote to the holiday blues.
New York, NY (PRWEB) December 06, 2012
For the millions of Americans grieving the loss of a loved one, the holiday season can be an especially difficult time. When the world is filled with family celebrations, those who've suffered the death of a loved one—be it a child, spouse, parent or sibling—are continually reminded of their loss. For the bereaved, the holidays are not a time of joy, but a time of intensified grief, making their loved one's absence all the more evident and painful.
Co-authors Lilly Julien & I. J. Weinstock—who have experienced the loss of spouses and a child—believe that during this holiday season, when celebration is the furthest thing from the griever's heart and mind, perhaps it's the time to embark on a grief quest.
"When one feels the absence of their loved one as intensely as during the holidays," says co-author Lilly Julien, "a way to deal with those feelings is to honor that loved one by actively bringing their memory closer." Julien lost her daughter, Michelle, twenty years ago and founded COPE (Connecting Our Paths Eternally), one of the largest grief support organizations in the NY metropolitan area. "Grief Quest can help those who've lost a loved one channel the intensified grief they experience during the holidays in a positive way."
Grief Quest—an Award-Winning Finalist in two categories of the 2012 USA Best Book Awards: "Health: Death & Dying" and "Self-Help: Journaling"—is based on the power of questions to heal the grieving heart. "The questions you ask determine the quest you take," says co-author I. J. Weinstock, whose grief memoir, JOYride: How My Late Wife Loved Me Back To Life, recently won an eLit Award for Best Inspirational/Spiritual Digital Book of 2011.
"Love may be the answer," Weinstock explains. "But loss poses the questions. When we lose a loved one, we begin asking questions we've never asked before. Why? How could this have happened? How am I going to live without you? How can I stand this pain? Will I ever feel normal again? And on and on."
"When we say we've 'lost' our loved one, the truth is we're lost," adds Julien, who with Weinstock leads workshops at international grief conferences. "The right questions are like a trail in the wilderness that can lead us out of the darkness toward the light of a new life that is forever changed."
Grief Quest's 28-day program utilizes a unique question-based L.O.V.E. process: Love your memories; Open to your grief; Value the gifts; and Embrace your life. The authors describe Grief Quest as a modern day "pilgrimage of the heart." Dr. Gloria Horsley, the internationally renowned grief expert, praised their book—"Grief Quest's L.O.V.E. process can be very helpful to anyone who's lost a loved one."
Ms. Julien regrets not having Grief Quest available twenty years ago when she lost her daughter. "I wish I'd had the workbook so that I might have filled it with memories. Had I done Grief Quest at the time, I would now have a precious memoir of my daughter. What a wonderful healing gift that alone would be."
From the positive feedback the authors have received from individuals who've done Grief Quest and from bereavement facilitators who've used it in their groups, Weinstock believes that "embarking on a grief quest during the holidays may be a helpful antidote to the holiday blues."
Grief Quest has received endorsements from leading figures in the grief and bereavement field. Dr. Darcie Sims, Director of the American Grief Academy, wrote: ""The Grief Quest workbook is GREAT…a real gem for those who are trying to navigate the path through grief." Mitch Carmody, author of "Letters to My Son, Turning Loss to Legacy" said: "I highly recommend Grief Quest for anyone on the grief journey."
There are currently two versions of Grief Quest: for the loss of a child, and the loss of a spouse. Both versions are available on Amazon. For more information visit http://www.dreamasterbooks.com/griefquest