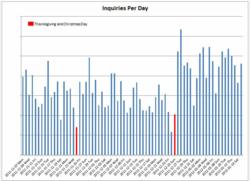 Seattle, WA (PRWEB) December 04, 2012
SeniorHomes.com, a free nationwide resource for seniors and their families searching for senior care or senior housing, announces the release of web inquiry data that depicts a strong trend of seasonality in the weeks following the winter holidays. For several years, the holiday season has proven to be a time when senior care providers receive a significant increase in inquiries from the web and families that want to tour their communities. The upsurge of senior care inquiries may be attributed to the frequency of family gatherings during the holiday season where signs of aging may be more apparent.
Holiday Trends
SeniorHomes.com data from 2009 through 2011 indicate a significant trend: immediately following Christmas day there is a large spike in inquiry volume that continues through the month of January. The graph included marks Thanksgiving and Christmas Day with a red bar.
As shown in the graph from 2011, last year December 26th and 27th were peak volume days for internet inquiries. And, as the graph shows, seasonality continues into January. The average weekly inquiry volume in the weeks following Christmas is 58% greater than the weeks leading up to the holiday.
Time to Prepare
Based on data from SeniorHomes.com, senior care communities should expect an increase in calls and inquiries, making for an opportunity for providers to adequately staff their sales and marketing departments to respond to inquiries from potential residents in a timely manner. Preparing for the increase in web inquiries allows a community to position itself for higher conversion rates throughout this busy post-holiday season.
About SeniorHomes.com
SeniorHomes.com (http://www.seniorhomes.com) is a free resource for people looking for senior housing or senior care for a loved one or themselves. With expert-written articles, a comprehensive directory of care options and a free care advisor service, SeniorHomes.com is the best place to start your search for assisted living, independent living, Alzheimer's care, a retirement community or home care. For example, check out our Florida Assisted Living page for a complete listing of communities in the immediate area or call 800-276-1202 to talk to an advisor for free today.
# # #
If you'd like more information about this topic, or to schedule an interview with Chris Rodde, please call Natalie Vaché at (206)-673-4755, or email her at Natalie(at)seniorhomes.com.