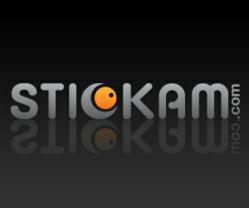 We're confident our security measures are leading this industry in controlling live user generated content.
Los Angeles, CA (PRWEB) December 04, 2012
The first live streaming social network, and now with over 10 million members, Stickam is proving that facing internet adversity head on gets results. Stickam has obtained significant results using an innovative restrictive registration procedure to qualify new users. This new restrictive registration procedure, in conjunction with Stickam's existing privacy tools and 24/7 site monitoring, has led to a 55% decrease in the number of user accounts terminated for violating the Stickam Terms of Service, significantly improving user experience.
New Restrictive Facebook Sign-Up
Since September 2012, new users have been required to provide Facebook registration credentials in order to join the Stickam community. Users who wish to create a Stickam account must now provide legitimate Facebook account credentials that show a degree of user activity. Stickam's Executive Director Hideki Kishioka confirms, "Qualifying new registrations has been hugely successful in providing our users a better experience by creating a barrier of entry for disruptive users."
User Control and Unique Features Key to Success
Users have full control over who can interact with them while using the site. Since Stickam's inception, users have been able to ban unwanted visitors from their live video chats, flag objectionable users and enact multiple levels of privacy features. Since 2010, users have been able to further restrict access to only their Facebook friends, Twitter followers, YouTube subscribers or to their approved friends on Stickam. Additionally, Stickam has built-in extra precautions for younger users. Users under the age of 18 cannot contact or be contacted by anyone 18 years or older unless first approving them as a friend.
Kishioka affirms, "We're proud of our live community and the efforts we make to improve user experience. As the pioneer of live social media we lead the way in handling live user generated content and are committed to preventing abusive users from accessing the site. Our efforts combined with the efforts of the Stickam community make Stickam an unwelcome site for users seeking to be disruptive. We're confident our security measures are leading this industry in controlling live user generated content."
Stickam is owned by Stickam Worldwide Inc. The company principals are James Johnson, President, and Hideki Kishioka, Executive Director.
About Stickam
Created in 2005, Stickam was the first live streaming network and today is home to the largest live online video community with over 10 million registered users. Based in Los Angeles, California, Stickam consistently achieves 10+ million unique monthly visitors, delivering a highly engaged and built-in audience for live video streams. Stickam is home to live streams from content creators including G4 TV, Vans Warped Tour, NATPE (The National Association of Television Production Executives), Andrew W.K., and many more. To learn more, please visit http://www.stickam.com.
###