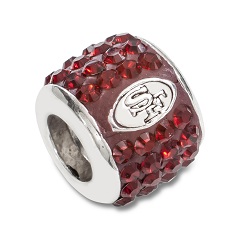 Paradise, TX (PRWEB) December 04, 2012
Sports Fan Jewelry Online (SF-JO), a new sports jewelry online business, is expanding its NCAA Jewelry and MLB and NFL Professional League jewelry catalogs with a line of beads they are calling "Premier Beads". The SF-JO team wanted to give its customers and followers a sneak peak of this new product. This line of beads will be available and in their online catalogs December 5, 2012. The SF-JO team feels this new line of jewelry will bring sports jewelry to a new level of elegance.
The Sports Fan Jewelry Online team had been looking for a new line of jewelry to add to its collection of stainless steel and gold sports jewelry for women collection. They knew they wanted something that would add elegance with an ambiance of color. When the "Premier Bead" became available, they knew these beads were what they wanted to offer to sports fans.
The "Premier Bead" is a barrel shaped charm measuring 3/8 inches in diameter with a 4MM opening allowing it to be displayed on a chain bracelet or necklace. The charm is crafted in the finest sterling silver. The charm is encrusted with crystals that match team colors. Nestled among the crystals, is the team logo or team name. The logo or name is sculpted in raised relief and is highly polished to provide a striking contrast against the sparkling crystals.
The "Premier Bead" will be sold as a bracelet or as an individual bead. The bracelet will be made of sterling silver and will be a snake type chain. The bracelet will measure 8 inches in length and will include a lobster clasp closure. The bracelet and "Premier Bead" will be packaged and delivered in a black velvet presentation box.
Besides these "Premier Beads", the SF-JO team will be expanding its sports jewelry options by also offering other crystal jewelry options in the near future. They feel the announcement of these options should come within the week.
The SF-JO team wants Sports Fan Jewelry Online to be known as your place to shop for sports jewelry. The SF-JO online sports fan store can be found at http://www.sportsfanjewelryonline.com. The online store is open 24 hours a day and shoppers needing customer service can call 1-800-728-7356 between 10:00am and 7:00pm Central Time, Monday-Friday.
Bloggers can follow featured products and can participate in surveys at http://www.SportsLoveToday.com. Followers are also welcomed to follow SF-JO on other social media such as Facebook, Twitter and Pinterest. Return customers are welcomed and are eligible for silent specials given during the year.