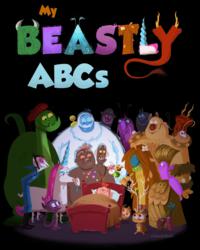 Pasadena, CA (PRWEB) December 04, 2012
What do the Abominable Snowman, the Boogey Monster, and the Chupacabra have in common? They are all teaching your child the alphabet in the new iPad app "My Beastly ABCs" from the award-winning animators at Duncan Studio. Known for their work on animated feature films such as Tarzan, Hercules, and SharkTale, this creative team brings together stunning artwork, charming animation and original magical narration performed by famed actor and voice-over artist Jim Dale, renowned for his work on the Harry Potter audio book series.
Through the use of interactive animation and an imaginative plot, the app tells a captivating story of a young boy as he encounters mythical creatures from around the world. Each page is filled with beautiful artwork and invites readers to interact with characters from the scene causing them to respond in fun and unexpected ways.
"I've always believed that we all learn best when information is presented in an entertaining and understandable form," said Ken Duncan. " My Beastly ABCs gives children a fun, interactive way of reviewing their ABCs and also demonstrates how a child overcomes his anxieties and discovers joy in the very thing he feared."
"I am so proud and excited to be a part of the innovative project, My Beastly ABCs" stated Jim Dale. "Duncan Studio is breaking new ground with their unique ability to combine the highest caliber art and technology to entertain and educate young minds."
In the process of expanding from the world of theatrical animation into an app developer, Duncan Studio shares a new approach to children's apps."The app world has opened up a whole new doorway for our studio" shared the app's writer and producer, Pilar Flynn. "We are used to bringing characters to life on the big screen, but this medium really allows us to harness the best of our artists' talents into one special little package"
Expanding into the app space has allowed Duncan Studio to add an educational element to their animation. My Beastly ABCs encourages children to strengthen their reading skills with the read-aloud feature while also learning a positive way to confront everyday apprehension. Additionally, My Beastly ABCs includes a monster index where kids can find more information about each of the creatures within the story. This reinvention of the classic rhyming storybook takes readers on an adventure they're sure to never forget.
My Beastly ABCs is available for $3.99 from the App Store on the iPad.
Download for iPad: https://itunes.apple.com/app/my-beastly-abcs/id578158826?mt=8
Trailer: http://youtu.be/V1Z7Fg4POTo
Website: http://www.duncanstudio.com/
Press Kit: https://duncanstudio.box.com/s/x28jeggme7znupwwvbeb
ABOUT DUNCAN STUDIO:
Duncan Studio is a full-service, creative animation house built on the idea that animation, as a storytelling tool, is truly limitless. Founded by world-renowned animator Ken Duncan, the studio has partnered with some of the industry's most influential leaders to produce projects of the highest quality using traditional (hand-drawn), computer animation, and stereo formats. Now venturing toward a new exciting direction, Duncan Studio has created a completely original interactive storybook iPad app. Employing a highly experienced staff, adventurous spirit, and uncontainable passion, the members of this boutique studio have worked hard to utilize this innovative platform to create something magical that is sure to delight adults and children alike.
###