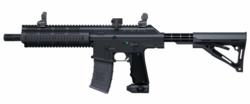 Action center staff favorite paintball gun
Morgan, UT (PRWEB) December 07, 2012
Action Center Paintball announces the The BT_TM15 paintball gun at a new low nationwide price of $399.99. Equipped with features usually found on much more expensive markers, features a true electro-pneumatic operating system and a well-constructed body made of light weight magnesium, as well as reduced sound signature for stealth firing in any of the multiple firing modes. With the standard multiple Weaver rails, accessory options are nearly endless. With the weaver rails, a paintball player can modify this marker from any gun accessory outlet. Internal airline operation eliminates external hoses. which is a must for scenario play nothing worse than getting hoses stuck in branches. Plus, front and rear sights ensure you get your shot.
Features include
Lightweight Magnesium Body.
*Bolt out Back Design for Easy Cleaning and Maintenance.
*Modern Styling.
*True Electro-pneumatic Operating System.
*Shift-On-The-Fly, 4-Position Recreational Firing Mode Switch.
*Multiple Firing Modes: Semi/PSP/NXL/Millennium.
*Stealth Body Design Works in Conjunction with the Barrel to Reduce Sound Signature.
*14 Inch Barrel. with Sound Signature Reduction Porting.
*Flip-Up Front and Rear Sights.
*Clamping Feed Elbow.
*Universal, Mini Style Barrel Threads.
*Single-Finger Trigger (Double Trigger Kit Available).
*Multiple weaver Rails Allow for Extra Accessories.
*Quick-Change Battery in the Removable Magazine.
*Collapsible/Adjustable Rear Stock.
*Low Pressure Operation (200psi).
*No External Hoses; Internal Airline Operation
BT-TM 15 review The TM-15 has set itself apart from other electronic-pneumatic rifles in the paintball industry, .
The Body - This marker is one of the few markers that comes built from an aluminum alloy. This makes the marker light as if carrying plastic but also tough and durable as if made out of carbon steel or titanium
The Barrel - Comes stock with a ported 14 inch barrel which in conjunction with the body, suppresses the noise while firing; sort of a built-in silencer. the stock barrel
Weaver/Pica tinny Rails -
Grip - The grip could have been more angled,
Magazine - The mag on this marker is pretty standard, has a place for Allen keys and also houses 2 batteries.
Maintenance - The bolt-out-back design makes maintenance even for newbies a quick and easy process. Two screws for the body and 1 screw for the bolt gives the player access.
Eyes - Comes fully equipped with break beam eyes, which prevents the marker from firing is a ball is not completely inserted inside the breach.
Low Pressure Operation - Fires at 200 psi, which gets more shots on a tank fill. and a very consistent shot
No External Hoses - The marker has an internal airline operation, external hoses take away from the "mil-sim" look.
Buy the BT-TM 15 At Action Center Paintball
for more information visit:
http://www.actioncenterpaintball.com
http://www.paintballguns.tv/BT-TM-15-Paintball-Gun_p_164.html