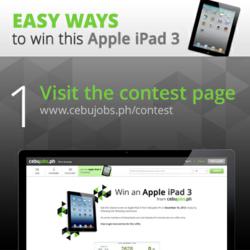 Cebu, CEB (PRWEB) December 04, 2012
Emerging as the new player in the jobsite industry of Cebu, the team behind CebuJobs.PH rises above the challenge as they continue to provide equal job opportunities to every "Juan". To celebrate their entrance in the industry is their Apple iPad 3 Raffle Giveaway, open to all residents of Cebu. With only ten (10) days left of the contest proper, Managing Director Ian Callet shares some helpful tips on how to gain more entries to join their contest.
"We want to help everyone get more chances in winning this awesome prize! Currently, we have six (6) ways for the public to join our contest. For one, the simplest way is to visit directly cebujobs.ph/contest page and follow all the mechanics there. Second, there are multiple social networks to connect with: Facebook, Twitter or Google. Actions on these sites are convertible to entries, and you're not entitled to just like or follow a page, but you can also share, post and tweet" shared Ian.
Currently, the team behind the CebuJobs.PH is improving the site, making it as convenient and user-friendly to attract users all around the Philippines. Some of the strongest demands in the job search portal are web developers, web designers, and call center jobs in Cebu, as Cebu stands as one of the leading destinations for Business Process Outsourcing (BPO).
Also another event to look forward to is the launch of three (3) sister websites, DavaoJobs.PH, IloiloJobs.PH and BacolodJobs.PH. The job listings available on these websites include opportunities in Cebu and those in the specified provinces, local, abroad, full time and freelance.
To know more about these Cebu jobs and the counterparts, visit their website at http://www.cebujobs.ph or email them at info(at)cebujobs(dot)ph.
About
CebuJobs.PH is owned by Clicking Labs, Inc. Clicking Labs is a well established internet marketing company founded in 2010 by Jean-Patrick Bisson, Diana Quartin and Jonathan Kennedy. The company specializes in driving search marketing and social media traffic, social web app development and conversion optimization. Each product or service specifically helps small/medium website owners increase online visibility and improve online sales.