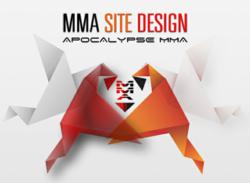 "No company can lead an industry, no company can act with rugged autonomy, nor innovate, nor implement new ideas, if that company itself is deficient in its originality and perseverance" ~APOCALYPSE MMA
(PRWEB) December 05, 2012
Apocalypse MMA has now allocated resources from our web development team to build, design, and launch free professional custom websites for everyone in the MMA industry via mmasitedesign.com.
Apocalypse MMA has differentiated itself once again by creating a truly unique website design service for MMA athletes worldwide.
Apocalypse MMA continues to be a major supporter of MMA Athletes and especially Women's MMA Athletes. Apocalypse MMA recently designed former Strikeforce Champion Miesha 'Cupcake' Tate's new website.
Apocalypse MMA designs every website specifically for each fighter by incorporating each fighters unique personal brand and style into their own custom website. A professional website from Apocalypse MMA helps MMA fighters market themselves, their sponsors, and helps them communicate with their fans.
With the rapid and monumental rise of MMA fans worldwide, Apocalypse MMA has found a way to once again set itself apart from the competition. With the recent successes of Hollywood MMA movies and the growing understanding of mixed martial arts, this trend will only increase in the future. For more information please visit us on Facebook or visit our website.