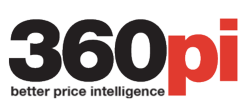 This partnership with Rise Interactive further highlights the benefits of having accurate and reliable competitive price information for tangible marketing results
Ottawa, Canada (PRWEB) December 04, 2012
360pi, a competitive price intelligence company, today announced a new partnership agreement with Rise Interactive to improve retailers' paid search marketing efforts. The partnership aims to increase online conversion rates by combining 360pi's competitive pricing information with Rise Interactive's FeedPro paid search solution.
"This joint venture will offer more insights for our paid search marketing recommendations," said Howard Diamond, vice president of digital strategy at Rise Interactive, a digital marketing agency in Chicago. "Our FeedPro technology allows us to determine when we should advertise for a specific word. By leveraging 360pi's pricing data, Rise Interactive will better understand how our products are priced relative to our competitors, allowing us to allocate our clients' budgets more intelligently."
360pi offers timely and accurate price intelligence data for retailers, which includes product prices, shipping costs, and competitor product availability. In addition, 360pi's online competitive monitoring solutions allow retailers to optimize product prices and to choose which products they promote or list.
For example, retailers, who use 360pi's intelligence data, can increase their conversions, prices, and profit margins if they re-price and promote products that they have in stock, but their competitors do not. Alternatively, retailers can lower their costs and decrease the number of abandoned online shopping carts by removing out-of-stock products from their data feed or products that are unable to be priced competitively.
"This partnership with Rise Interactive further highlights the benefits of having accurate and reliable competitive price information for tangible marketing results," said Jim Sourges, head of business development at 360pi. "And it is in line with our mission to help retailers better compete in a price-transparent world. We look forward to better serving our clients, and the clients of Rise Interactive."
About 360pi
360pi, a global leader in retail price intelligence, delivers online competitive monitoring solutions that give retailers complete visibility into their competitors' prices. Top retailers use 360pi's industry-leading match and accuracy rates – made possible by its proprietary artificial intelligence and cloud-based, Big Data capabilities – to enhance their pricing strategies and enable margin and revenue increases of up to 80%. To find out more about competitive price and product intelligence or about how you can use it to optimize your PPC advertising, contact 360pi.
About Rise Interactive
Rise Interactive is a digital marketing agency in Chicago, specializing in digital media and web analytics. Founded in 2004, Rise Interactive leverages customized reporting to equip quantitatively-minded individuals with actionable insights. The agency's Interactive Investment Management philosophy ensures that a client's budget is allocated to the most profitable marketing channels. For more information, visit http://www.riseinteractive.com or follow the company on Twitter @riseinteractive.