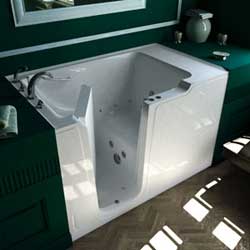 This unique service will make it possible for our customers to get an idea of costs for installation on walk in bathtubs, without having to deal with a sales person coming into their home.
Denver, CO (PRWEB) December 04, 2012
Aging Safely Walk In Bathtubs officially announces that customers can submit a picture of their bathroom online to obtain quotes. Online picture submissions make it convenient for customers to receive recommendations about the appropriate size, style and installation of walk in tubs. Once customers receive personalized information about walk in bathtubs based on the particular layout of their bathrooms, salesperson can provide quotes without entering their homes.
Zach Wennstedt, CEO of Aging Safely, said, "When customers purchase walk in tubs, they often need to make sure that the tubs fit a particular space. Nevertheless, they may not want to ruin a day waiting for a salesperson to look at their bathroom and advise them of the best choices. Now, they can simply send a photograph of their current bathroom, so they can receive competent advice and quotes without taking a day off from work or readjusting their schedule."
Additionally, when salespeople view a photograph to determine the best safe bathing options for customers, it is less costly than scheduling sales staff home visits. This allows Aging Safely to pass the savings to the customer by offering the lowest prices on walk in bathtubs and showers.
When purchasing a walk in hydrotherapy bathtub, wheelchair accessible shower or other safe bathing product, many customers are concerned about the cost. They want senior bathtubs or hydrotherapy tubs that affordably meet their needs. Additionally, the walk in bathtubs they choose must fit their space confinements. Although supplying sales staff with dimensions is helpful, furnishing a picture allows salespeople to know exactly where the walk in bathroom fixture will be installed. Often this can eliminate some senior bathtubs or make certain fixtures a better choice. Once sales staff targets options that best meet a customer's needs, they can provide quotes.
Many customers are elderly, so they do not want to allow a salesperson to enter their homes to view their existing bathroom. They may have difficulty getting to the door or may need someone to greet and supervise a salesperson. Submitting a photograph of their bathroom makes it easier and faster to get an accurate quote on walk in tubs or showers.
Although many past customers are thrilled with Aging Safely's prices and customer service, the company is constantly making changes to meet the concerns of customers. Many of Aging Safely's customers seeking walk in tub and walk in shower fixtures are seniors who do not drive. Aging Safely is proactively providing seniors and other clients with better personalized service that enhances shopping at home for walk in bathroom fixtures.
Contact Information:
Zach Wennstedt
1-888-779-2284
info(at)agingsafelybaths.com