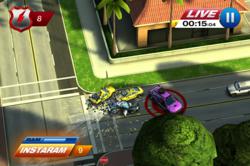 No license required.
LONDON, UK (PRWEB) December 06, 2012
Hutch Games, founded by five ex-console developers from Sony and Microsoft who worked on top-selling franchises such as Fable and Burnout, is launching Smash Cops Heat for iPhone, iPad and iPod touch. Available for free in the App Store, this addictive pick-up and play action racer will have you taking down felons, escaping criminal attacks and racing through the big city in whirlwind chases previously only seen on TV.
The re-release to the hit mobile game Smash Cops, which has more than 5 million downloads, combines all the intense racing action that players love with new levels, missions and power-ups that pit the player's driving skills against felons desperate to outrun them.
"We took a risk moving from console to mobile development, but with over 5 million downloads of our first game Smash Cops, we knew we had made the right decision," said Will Whitaker, co-founder, Hutch. "With Smash Cops Heat, we've upped the ante and given our fans even more to rave about in our first Freemium title with premium quality design."
Unleashing two new power-ups, Smash Cops Heat's "InstaRam" gives the player even more arsenal for rapid-fire takedowns, taking the guesswork out of booking felons. "Super Cop" has been retuned to help players shake off attacks for ultimate berserk mode action.
Known for its ground-breaking controls that are incredibly intuitive and ultra-responsive, Smash Cops Heat lets players of all skill levels get in on the driving action - no license required.
Pricing and Availability:
Smash Cops Heat is available immediately for free from the App Store for iPhone, iPad and iPod touch.