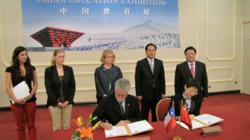 (PRWEB) December 04, 2012
Recently, ICAAE (International Council for the Accreditation of Academic Evaluation) has introduced its academic evaluation service at the 13th China Exhibition of International Education, and received positive reviews from the education experts at the site.
According to Edward Devlin, an associate director of institutional liaison from ICAAE, academic evaluation is the process of verifying that the education obtained in another country meet the standards established for the students.
Edward Devlin, said, "Thanks a lot for the recognition and praise first, and this is the affirmation of our work really. Over the past few decades, the number of students who come to study abroad in the United States has continued to grow. It is important to provide American universities with information on the overseas students academic credentials as their equivalents can be very different when compared to the credentials in the United States education system."
Academic evaluation is a complex issue involving various stakeholder groups, and its purpose is to make it possible for individuals to use qualifications from other education systems without losing the real value of these qualifications."
Every college and tech school has its own policy on how to deal with granting credit for classes taken in foreign schools. In addition, credential evaluations vary in cost depending on the complexity of the analysis and the amount of documentation available. The complex situation has made it necessary to find a professional organization to deal with such issues.
ICAAE provides more than 50,000 evaluations each year that are accepted by thousands of academic institutions, employers, licensing and certification boards and government agencies in the USA, Canada, UK, Australia, Singapore, Maylasia, Thailand, South Korea, and etc.
Edward Devlin stressed, "We have much experience in the education industry, and can help overseas students to streamline their study process in the USA. Whether your interest is for academic or professional purposes, we've got the tools and information to help."
About ICAAE
ICAAE is a not-for-profit organization founded in Nevada, USA, is internationally recognized in the field of international credential evaluation. ICAAE is known for its fast and efficient service. Its up-to-date resources and comprehensive database on educational systems worldwide assure the accuracy and consistency of its reports.
For more infornation, please visit ICAAE's website at: http://www.icaae.org/