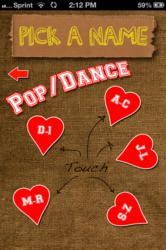 We predicted that Persongalize would have been almost impossible to create, but here it is, your name in a song!
Clermont, Florida (PRWEB) December 05, 2012
Persongalize features access to 1,816 original personal songs available in the Rock, Pop/Dance and Country genres. Each song is customized to include a different females name sung inside the song. The songs are made available through iTunes with a thirty second preview and can be purchased for $.99.
"Persongalize" - App Store - *Free*
While writing and recording a song for every single name imaginable is extremely challenging, Lakeside Studios has accepted the challenge and is excited to move forward taking the first step of many into the personal song writing movement with Persongalize 1.1. If the name that a user was looking for is not included in the first version, Lakeside Studios encourages name submissions at: "lakesidestudios(at)hotmail(dot)com". To stay updated with the latest Persongalize news, updates or polls for what genre should be featured next, follow Persongalize on Facebook. With over 700 female names already available, Persongalize will be updated frequently, including new songs featuring names that were not included in the first version 1.1, expanding its genre options, adding songs featuring male names and other expansions users will not want to miss.
Feature Highlights:
-1,816 original personal songs available in three different genres.
-Music trivia quiz.
Device Requirements:
-iPhone 3GS, iPhone 4, iPhone 4S, iPhone 5, iPod touch (3rd generation and up) and iPad.
-Requires iOS 5.1 or later.
Located in Clermont, Florida, Lakeside Studios was founded in 2010 by Alec Larson and Karlton Tillman. Lakeside Studios is a committed team of songwriters, recording engineers, producers photographers and UAV operators. Since 2010, Lakeside Studios has been involved in the production of such projects as, The Advaita Concept, Destination: You and even specializes in obtaining high quality low altitude aerial photography and video through the use of their state of the art unmanned aerial vehicles. Copyright (C) 2012 Lakeside Studios. All Rights Reserved. Apple, the Apple logo, iPod, the iPod logo, are registered trademarks of Apple Computer in the U.S. and/or other countries.
###
Alec Larson and Karlton Tillman
Lakeside Studios
407-579-7050
lakesidestudios(at)hotmail(dot)com