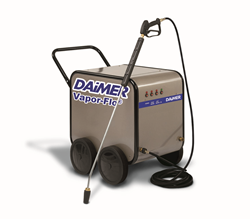 Daimer® is excited to present its Vapor-Flo® 8410, a powerful 100% electric hot water pressure washer guaranteed to help food factories adhere to the highest standards of cleanliness and hygiene.
Woburn, MA (PRWEB) December 04, 2012
Daimer Industries, Inc.®, the internationally recognized American brand of industrial and commercial pressure washer systems, including hot water pressure washer equipment, gas pressure washer machines, and steam pressure washer machines with hundreds of models sold to customers located in 200 nations, is shipping the unique Vapor-Flo® 8410. The machine is an effective and durable 1880 psi low flow, Eco-safe electric pressure washer machine reaching temperatures up to 205°F, perfectly designed to help clean food factory equipment.
"Effective maintenance of food factory machines is an integral part of ensuring that food products are safe for human consumption. Proper cleaning of equipment involves helping eliminate most germs and remove food buildup," says Matthew Baratta, spokesperson for Daimer Industries, Inc.®. "Daimer® is excited to present its Vapor-Flo® 8410, a powerful 100% electric hot water pressure washer guaranteed to help food factories adhere to the highest standards of cleanliness and hygiene."
The food processing industry has come a long way since the initial canning and freezing procedures of yesteryear. Most food factories now focus on preserving or processing food for ready consumption. Fish, meat, and poultry processing factories in particular are highly mechanized settings for working long hours to maximize profits.
Maintaining food factory equipment demands the use of heated versions of commercial pressure washer machines capable of eliminating the toughest deposits and buildup from surfaces. Fuel-powered models such as gas pressure washer systems are not permitted for use in all food factory environments. Daimer®'s Vapor-Flo® 8410 is an advanced and feature-rich electric pressure washer perfectly suited for cleaning applications in food factories.
To ensure faster and more effective cleaning, the Vapor-Flo® 8410 comes with high pressure levels of 1880 psi. Low flow rates of 0.6 gpm make the rugged portable pressure washer equipment ideal for use on almost all kinds of food factory equipment and conveyor belts. The rugged, powder-coated steel casing empowers the machine to withstand routine, heavy-duty cleaning applications. The machine is engineered with the highest quality internal parts and components to last reliably for many years of successful use.
The cold water and hot water options enable cleaning professionals to use commercial pressure washers for a host of surfaces, including stainless steel, brass, copper, and most other hard surfaces. Daimer®'s Vapor-Flo® 8410 temperatures as high as 205°F are outstanding for dissolving and removing grease, oil, hardened liquids, and many others. The high temperatures also help destroy germ buildup on surfaces.
The industry's best electric pressure washer machines include no emission of fumes. The machine includes a chemical injection feature that simplifies the process of up streaming cleaning chemicals to be blended with the water, for those cases when cleaning solutions are required.
The Vapor-Flo® 8410 features a heavy-duty 2.0 HP motor and comes with a range of optional features, including different power methods, adjustable pressure levels, and customized hose lengths. The heater response time is also unmatched, enabling the conversion of cold water to hot water within approximately 20 seconds. The 440V, 60 Hz, three phase machine also comes in 400V, 50 Hz, three phase and 480V, 60 Hz, three phase options.
The pressure washer comes standard with an assortment of accessories including a trigger wand, nozzle, and 32 foot long pressure hose.
For Additional Information:
For more details on the Vapor-Flo® 8410 or any of Daimer®'s pressure washer systems, visit the company's website, or call Matthew Baratta at (888) 507-2220. The pressure cleaning machines are marketed and shipped globally to most countries.
About Daimer Industries, Inc.®:
Daimer Industries, Inc.® is a leading supplier of totaling over 600 models of powerful pressure washers and versatile power washing equipment models, mobile high temperature steam cleaners , auto detailing systems, tile and grout cleaning equipment, carpet steam cleaners, steam vacuum cleaner machines, car wash equipment, and hard surface floor cleaning machines with advanced technologies.