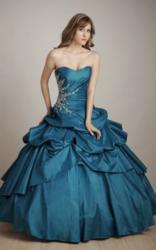 (PRWEB) December 04, 2012
On Dec. 3, 2012, Gownsonlinesale.co.uk launched a wedding dress promotion, up to 60% off, to acknowledge new and old customers. Moreover, they provide free delivery service on any orders over £150.
In the face of some doubts from market, Victoria Lewis, CEO of the company, is very confident: "As known by many people, the characteristic of our marketing strategy is a ruthless price competition. This time, it is not a bluff!"
Gownsonlinesale.co.uk is well-known for its price-war in the wedding dress industry. It has obtained much approval from customers, although some peers don't like its practices actually.
The promotion covers not only cheap wedding dresses, but also many wedding accessories, like wedding veils, wedding headpieces, wedding jewelry, wedding gloves, and etc. The company is committed to providing One-Stop shopping experience for its customers.
According to Victoria Lewis, Gownsonlinesale.co.uk strove to provide customers a better shopping experience with wide ranges of selection, high quality & low prices, fast delivery, good package, and FREE Shipping.
Victoria Lewis stated, "The UK market is the most important market for our company, and we have got great success since the launch of our Bridesmaid Dresses UK series last year. It makes no sense to say too much here, and customers can feel our sincerity on our website."
About Gownsonlinesale.co.uk
As a leading online store of wedding dresses, Gownsonlinesale.co.uk is famous for its kindling the cut-price war often in the market, although its wedding dresses are high-quality products at acceptable prices.
Please visit http://www.Gownsonlinesale.co.uk/ for more details.