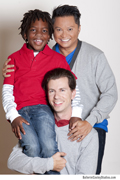 As the familiar playground song goes, 'First comes love, then comes marriage…' We all know what's next, right?
Los Angeles, CA (PRWEB) December 04, 2012
As the country waits to hear whether the U.S. Supreme Court will hear the appeal of Perry v. Brown, the Ninth Circuit case overturning Proposition 8, LGBT people are building their families though fostering and adoption.
"As the familiar playground song goes, 'First comes love, then comes marriage…' We all know what's next, right?" asks Rich Valenza, founder and president of RaiseAChild.US a nonprofit organization that encourages the LGBT community to consider building families through fostering and adoption. The organization has partnered with child welfare agencies, such as Los Angeles County's Department of Children and Family Services (DCFS) to recruit resource families for children in need.
This week alone, RaiseAChild.US recruitment events will book hundreds of LGBT prospective parents, inspiring them with panel discussions featuring LGBT foster parents and connecting them with agencies eager to work with them.
Sari Grant, DCFS Recruitment Administrator for foster care and adoption, is unequivocal. She says, "We have had great success training people from the LGBT community and providing children with safe, secure and loving homes. This outreach campaign is a great way to spread the word."
"Primetime entertainment is flooded with images of fictional gay parents, such as on The New Normal, Modern Family and GLEE," says John Ireland, RaiseAChild.US co-founder and media director. "As the Supreme Court weighs in, the news is filled with our actual families. It's time we move on to the important work of living our lives fully and with purpose."
The issue is not, 'Do gays have the right to adopt?" Rather, it is "Do all children have the right to a safe and loving home?" says RaiseAChild.US board member and marketing professional Chris Hershey. Hershey and her wife were the first lesbian couple to adopt a child in Los Angeles County in 1989. She adds, "Let's not forget, the lack of homes for children in need is a national epidemic that we all must take responsibility for."
According to the U.S. Department of Health & Human Services' Administration for Children & Families, over 107,000 children in the foster care system are available to be adopted. There are 300,000 additional children in need of immediate foster placement. Certified families are in short supply.
Evening recruitment events will be held on Tuesday, December 4 at Hadid Gallery in West Hollywood and Thursday, December 6 at the New York Museum of Fire in New York City.
Since it was founded in 2011, RaiseAChild.US has organized media campaigns in Los Angeles, Orange County and the San Francisco Bay Area, engaging over 500 prospective parents. RaiseAChild.US is working closely with the Human Rights Campaign Foundation's "All Children - All Families" (ACAF) initiative, which provides professional training and technical assistance to foster care and adoption agencies that want to welcome and support LGBT foster and adoptive parents. To date, ACAF includes over 60 participating agencies across the country and has awarded 27 seals of recognition.
Join the RaiseAChild.US community on Twitter @RaiseAChild and visit RaiseAChild.US on Facebook at https://www.facebook.com/raiseachild.