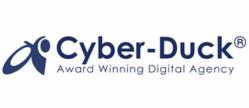 "With its 280% growth rate over five years, Cyber-Duck has proven that its leadership has the vision and determination to grow in difficult conditions."
London (PRWEB UK) 5 December 2012
Leading digital agency Cyber-Duck today announced that it was listed on the Deloitte Technology Fast 500 EMEA 2012, a ranking of the 500 fastest growing technology companies in Europe, the Middle-East and Africa. Rankings are based on percentage revenue growth over five years, during which period Cyber-Duck defied all recession trends and grew by 280%.
The growth is due to Cyber-Duck being able to compete against leading London agencies and win website, system development, mobile app development, digital marketing and branding projects from international brands such as GSK, Aston Martin, Arsenal and the EU. Much of this success is down to the company's commitment and willingness to go the extra mile for their growing clientele, as well as focusing on innovation.
Cyber-Duck Co-Founder and Managing Director, Danny Bluestone credits the company's relentless leadership, management and commitment as well as passion for innovation for the impressive revenue growth. He said, "In just 7 years we have become the UK's leading independent digital agency focused on producing the very best mobile and website solutions for our clients. Being at the forefront of innovation in web technology has certainly paid off, and this achievement goes a long way to recognize the relentless ambition of our fantastic team."
"Making the Deloitte Technology Fast 500 EMEA ranking is a testament to a company's commitment to technology," David Halstead, Deloitte United Kingdom and partner in charge of the Deloitte Technology Fast 500 EMEA programme. "With its 280% growth rate over five years, Cyber-Duck has proven that its leadership has the vision and determination to grow in difficult conditions."
-Ends-
About Cyber-Duck Ltd
Established in 2005, Cyber-Duck is a leading independent digital agency with a world-class reputation, working with global brands including The European Union, Aston Martin, Imperial Tobacco Plc, Arsenal FC and Maxinutrition (GSK). Cyber-Duck is ISO accredited with its core services being Web & Mobile Production, SaaS Technology, User Experience, Consultancy, Marketing Branding and Hosting & Support. Cyber-Duck has won some of the most sought after industry awards including Webby Awards, the Construction Marketing Awards, the Davey Awards, the Communicator Awards, the Interactive Media Awards, and the W3 Awards.
http://www.cyber-duck.co.uk
About Deloitte Technology Fast 500™ EMEA
The Deloitte Technology Fast 500 EMEA programme is the region's most objective industry-ranking to focus on the technology field, recognizing technology companies that have achieved the fastest rates of revenue growth in Europe, the Middle East, and Africa (EMEA) during the past five years. Combining technological innovation, entrepreneurship and rapid growth, Fast 500 companies – large, small, public and private – span a variety of industry sectors, and are leaders in hardware, software, telecom, semiconductors, internet, media, life sciences and emerging areas, such as clean technology.
The programme is supported by the Deloitte Technology Fast 50 initiatives, which rank high growth technology companies by location or specifically defined geographic area and is run by the Deloitte Touche Tohmatsu Limited's Technology, Media & Telecommunications (TMT) global industry group. Co-sponsors include Taylor Wessing, a leading International law firm with a focus on the industries of tomorrow, and Fidelity Growth Partners Europe, a venture and growth capital investor which backs entrepreneurs with aspiration for greatness in the IT and clean technology sectors across Europe. More information on the programme and prior year winners is available on http://www.deloitte.com/fast500.
About Deloitte
Deloitte refers to one or more of Deloitte Touche Tohmatsu Limited, a UK private company limited by guarantee, and its network of member firms, each of which is a legally separate and independent entity. Please see http://www.deloitte.com/about for a detailed description of the legal structure of Deloitte Touche Tohmatsu Limited and its member firms.
Deloitte provides audit, tax, consulting, and financial advisory services to public and private clients spanning multiple industries. With a globally connected network of member firms in more than 150 countries, Deloitte brings world-class capabilities and high-quality service to clients, delivering the insights they need to address their most complex business challenges. Deloitte has in the region of 200,000 professionals, all committed to becoming the standard of excellence.