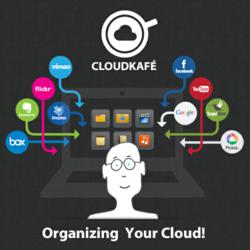 "Our vision is to help people do things across their personal Cloud in a friendly and simple manner", says Roni Liberman, Co-Founder & VP Product
(PRWEB) December 07, 2012
CloudKafé officially launches its Beta. This new user-friendly service provides consumers with a great tool to access all their cloud services from anywhere, easily find stuff & instantly share their content with people.
CloudKafé is aiming to support the growing daily needs of those who moved the center of their digital life to the cloud by enabling them to interact with all of their online content in one place. CloudKafé connects favorite cloud services like Google Drive, Skydrive, Dropbox, BOX, YouTube, Facebook, and many more, into one single interface.
"There is no doubt that the PC as we know it will be replaced by the Personal Cloud and much sooner than expected. The main problem that we identify is for the end user to perform simple "PC" actions across his Cloud, for example login to his PC and have quick access to all of his data (docs, pictures, contacts, videos etc.). All this is becoming a very complicated task in the Personal Cloud space. The user is required to login separately to each of his services in different browser tabs using a different UI (multiplied by his different platforms; PC, tablet, mobile etc.). And when talking about easily find items and instantly share with people, what is considered obvious using a PC is nearly impossible for the user to do across his Cloud" says Ehud Zaguri, Founder & CEO of CloudKafé
Ehud adds "These are very exciting times for us as we've been working on this product for nearly a year now, trying to incorporate the real needs of cloud users while providing a simple but yet great user experience."
CloudKafé already supports a wide range of cloud services: Dropbox, Box, SugerSync, Google Drive, SkyDrive, Facebook, Flickr, Picasa, YouTube, Evernote and more.
Users can add multiple cloud services, view and manage all their online content in one place, search across their different cloud services and share anything with their friends by email or Facebook.
"We've integrated the most popular cloud services from a wide range of available ones. Media files, online documents, notes and even contacts can now be accessed and managed using CloudKafé. Our Beta is packed with a great set of features and we are planning to add a lot of innovative updates and more services in the very near future. Our vision is to help people do things across their personal Cloud in a friendly and simple manner " says Roni Liberman, Co-Founder & VP Product
About CloudKafé
CloudKafé | Organizing your Cloud!. The company was founded in 2012 by Ehud Zaguri (CEO) and Roni Liberman (VP Product) both with extensive experience in the web & mobile industry.
For more information about CloudKafé, please go to http://www.CloudKafé.com