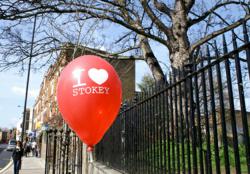 Customer service is what sets Location Location apart from its competitors
Stoke Newington, London (PRWEB UK) 5 December 2012
Estate agents - It's fair to say that they're not exactly loved by the public, whether its poor customer service, annoying company cars or wide-boy personas; the purveyors of property are usually in most people's top 5 most disliked professions.
Great news then for the people of Stoke Newington and surrounding areas because they now have an award winning estate agent right on their doorstep. The award isn't for 'Chunkiest tie', 'Most obvious description of a bathroom' or 'Cockiest in Class' either, local estate agent, Location Location has been awarded the prestigious title of 'Best North London Estate Agent For Customer Service'.
The Stoke Newington estate agent was voted Best In North London by it's customers through independent review site AllAgents.co.uk. Not a bad achievement seeing as state of the property market is enough to test even the most assured client-agent relationship.
Speaking about the award, Vicky Bibiris, Sales Director at Location Location said: "It's an enormous honour to be voted the best estate agent in North London. It's great to see the hard work done by all our staff over the last year recognised by the AllAgents Awards."
"We feel that customer service is what truly sets Location Location apart from its competitors. We are grateful to our customers for being kind enough to share their views and vote for us."
Winners of AllAgents awards are decided purely by customer reviews alone, meaning there's no influence from estate agents or sponsors.
Ms Bibiris added: "We have long been advocates of the AllAgents principle, and strongly believe in the value of transparency. Having a forum for clients to freely express their opinions about the service they have received is enormously important for the industry. It can only raise standards across the board."
Those looking to use an award winning estate agent in Stoke Newington can visit Location Location at 18 Stoke Newington Church Street, N16 0LU or go online to http://www.LocationLocation.com.