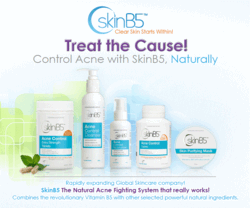 The word is getting out about SkinB5, and our customer base is expanding rapidly.
(PRWEB) December 06, 2012
Over 60,000 skin and beauty professionals visited Cosmoprof Asia this year-the world's largest health and beauty tradeshow. SkinB5 was honoured to be part of the delegation of Australian brands exhibiting at the tradeshow from 14 to 16 November. SkinB5 received overwhelming interests from skin clinics buyers and distributors from all over the globe.
"It was a very busy tradeshow for us! We met many skin professionals from all around the world—Thailand, Vietnam, China, Malaysia, Singapore, Philippines, United Kingdom, South Africa, Pakistan, Brazil and The Netherlands — to name a few," states Judy Cheung, Co-Founder and Managing Director of SkinB5. Acne is a problem experienced by many young people and adults all over the world; and no ethnic group is immune.
Skincare experts were drawn to the SkinB5 pavilion as it was the first time they had come across a natural acne treatment product that treats acne internally at the source, and is backed with real life testimonials. Cheung recalls that she was talking to a potential distributor from Thailand, when the meeting was interrupted by a dermatologist from the Philippines exclaiming, "SkinB5 is the best treatment I have ever seen, and I recommend it to all my clients!"
Judy is confident in SkinB5's abilities, and advised that she would not sign any distributor agreements until the international distributor's trial SkinB5 samples to see for themselves how effective the acne product can be.
"After only two weeks, I've heard from some very excited distributors that their trial clients are already starting to see improvements in their acne!" exclaimed Cheung, "however, the best results usually occur after one to two months."
Cosmoprof Asia is held yearly as an opportunity for cosmetics and beauty professionals to come together and learn about new products and technologies, and network with distributors. SkinB5 is currently a global ecommerce company, and is expanding into dermatology and skin clinics, pharmacies and health food stores worldwide.
Currently, South Korea, Australia, the United States and the Philippines are among the highest purchasers of SkinB5. However, after such strong interests at Cosmoprof Asia 2012, SkinB5 is now exploring opportunities to expand into skincare channels throughout the Middle East, UK, Europe, Vietnam, Malaysia etc.
"There has never been an easy cure for acne," states Cheung. "We believe that when people in these particular regions try SkinB5 and find out that it ACTUALLY works, it will become very popular. Already, buyers who took home some SkinB5 to test the efficacy with acne sufferers have reported noticeable improvements to moderate to severe acne within just one month of use."
SkinB5 treats acne in a unique manner by targeting three of the main causes of acne; stress, hormones and skin oil. SkinB5's flagship product; Acne Control Extra Strength Tablets are an all-natural internal supplement containing Vitamin B5 and other powerful clinically proven vitamins and minerals for skin health to treat and eliminate acne in a threefold manner.
Whereas other acne treatments are designed for topical application – attempting to treat acne on the surface when it is too late, SkinB5 treats acne at the source; from within the body in order to eliminate the problem once and for all, and preventing future breakouts.
"The word is getting out about SkinB5, and our customer base is expanding rapidly," says Cheung. "Cosmoprof was a great success for us; we made a lot of valuable connections and we look forward to see what the future holds!"
About SkinB5
SkinB5 is an all-natural acne supplement that works from within to eliminate and cure acne on the face and all over the body. The SkinB5 acne treatment system is based on vitamin B5 which is proven to increase skin health and reduce acne by regulating the skin's production of sebum, or skin oil. The unique formulation also clears acne by reducing stress and balancing the hormones. SkinB5's effectiveness is proven and safe for users of all ages. In addition to selling online, SkinB5 supplies to reputable pharmacies, health food shops, skin specialists and dermatologists who prefer to offer a natural alternative acne treatment. SkinB5 is a global ecommerce company which was launched in 2006. The product line consists of Acne Control Extra Strength Tablets, Acne Control Caplets, Acne Control Cleanser, Acne Control Moisturiser and 5-Minute Skin Purifying Mask. For more information, or to order, visit http://www.skinb5.com.