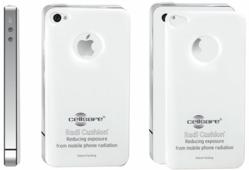 The Cellsafe Radi-Cushion significantly reduces exposure to children, mothers, workers and anyone who uses a cell phone, from the potential dangers linked with cell phone radiation.
Plan, TX (PRWEB) December 04, 2012
Evidence continues to grow linking health concerns with cell phone radiation, including brain tumors, pregnancy and fetal development, male infertility, insomnia, memory loss, and migraines amongst the more concerning health issues.
The International Agency for Research on Cancer (IARC) has categorised radiation from cell phones as "possibly carcinogenic to humans (Group 2B) based on an increased risk for glioma, a malignant type of brain cancer, associated with wireless phone use." The IARC concluded that "There could be some risk and therefore we need to keep a close watch for a link between cell phones and cancer risk."
Governments are now starting to take action, with the city of Pembroke Pines, Florida recently passing a resolution to warn residents about the potential cancer dangers of cell phones, and the Italian Supreme Court ruling in October 2012 that there is a link between brain tumors and cell phone use.
The Cellsafe Radi-Cushion is scientifically engineered to channel radiation produced by cell phones away from the head of user, and is independently tested and proven to reduce SAR by as much as 97.4%. SAR stands for Specific Absorption Rate. By lowering your exposure to SAR radiation you reduce the potential health risks associated with using your cell phone.
"Concerned about the possible health risks associated with cell phone radiation we invested heavily in research and development on our technology." said Aaron Leibovich, Managing Director of Cellsafe. "The result is the Cellsafe Radi-Cushion, significantly reducing exposure to children, mothers, workers and anyone who uses a cell phone, from the potential dangers linked with SAR".
The Cellsafe Radi-Cushion is a slim-line cushion, just 1mm thin, which adheres to the back of your cell phone, made up of a silicone compound with absorbing particles currently used in military and commercial applications, and with an embedded RF (Radio Frequency) module. This patent-pending module shields the user by channeling the radiation out through the rear of the phone, significantly reducing the harmful exposure to the head area of the cell phone user without reducing your phone's performance.
The Radi-Cushion was introduced in Australia in October 2012 and has proven to be hugely popular, particularly with businesses and organizations wanting to protect their employees from the possible dangers associated with regular cell phone use. Today the Cellsafe Radi-Cushion is being made available worldwide.
In addition, because the Radi-Cushion is only 1mm thin, users can use their own phone cover, whilst still benefiting from the Cellsafe radiation-reducing technology. The Cellsafe Radi-Cushion can also be used on its own without a cover fitted to the phone. It is available for popular smartphones including iPhone, Samsung and HTC, with more models in development, at http://www.cellsafe.com.
About Cellsafe
Cellsafe develops and manufactures cell phone radiation protection solutions for smartphones. The Cellsafe Radi-Cushion is the result of two years of ongoing research and development, and significant financial investment, backed by independent testing. It works world-wide and may be purchased from http://www.cellsafe.com.