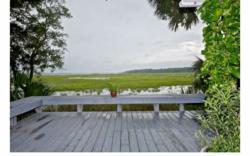 5375 Florence Point on Amelia Island is on the market and expected to impress with its incredible location and features.
Fernandina Beach, FL (PRWEB) December 06, 2012
The property located at 5375 Florence Point on Amelia Island is on the market and expected to impress with its incredible location and features. The home was built in 1984 and features panoramic views of the marsh, nature and intracoastal waterway views. The wrap around deck is ideal for taking in the scenery and the south end location is close to beaches, restaurants, and copious shopping.
For $499,000, buyers can expect to receive three bedrooms and three full bathrooms. After a recent price reduction of $51,000 the home has been shown and previewed extensively. The home is 2637 square feet in size and sits on 0.17 acres. The lawn is perfectly manicured, and the trees are mature. The moss hanging from the trees transports the guests to a true oasis and southern retreat. The exterior of the home is understated and is quaint for a beach home.
Inside the home, buyers will find high ceilings and spacious rooms. The ceiling is made of timber and is beautifully striking with deep rust to mahogany color. The walls are a contrasting but complementary beige color. Wall-to-wall carpeting is featured in this room. The current design lends itself to casual home décor and is quite comforting to many home owners. The room is featured on the website with understated furniture and plants.
The owner suite is coveted by the current home owners. The bathroom features a stand-alone shower and a Jacuzzi tub. The tub and shower doors are in keeping with the period. Though the home is move-in ready, some home owners may want to make some changes for personalization. If home improvement is important, the home can be easily upgraded with minimal effort or investment. Blinds are included but can be upgraded if necessary. The home is recommended for families of all types and ages.
There is a nominal homeowner's association fee required to keep the neighborhood up. The fee is approximately $100. An Amelia Island Realtor can provide more details about the HOA fees.
This property is worth viewing if the price is within a buyer's price range. Contact a Realtor at Chaplin Williams for a viewing of this Amelia Island real estate. Other Fernandina beach homes can be also be scheduled for viewing during this time.
Chaplin Williams
Amelia Island's foremost expert in upscale properties, Chaplin Williams Realty can be reached at 904-261-9311 or visit them online at http://www.ChaplinWilliams.com.