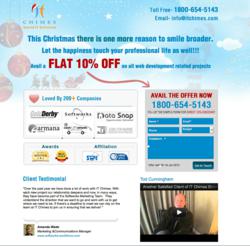 Web development and SEO services offer of 10% discount this Christmas season.
(PRWEB) December 04, 2012
IT Chimes, the leading web development and SEO firm from India, has announced a discounted package price, looking at the upcoming Christmas. The discounted packages can be availed from the company homepage or going to web development Christmas offer page.
Unveiling the offer, Mr Vibhu Satpaul, CTO of IT Chimes, said, the discount is applicable for new clients of IT Chimes and the offer is valid for SEO packages and website development projects. While for SEO the discounted package will be valid for 3 months, for web development services it will be a one time discount and will be calculated on the total project cost. The SEO clients also need to book SEO plans for 3 months at least to avail this offer.
"We wanted to give back something to our clients and present them with a reason to smile on this happy festive season and so we came out with this offer" Mr Satpaul said, "unlike others, we don't make moneymaking as the only objective of this business, that's where we stand different. We believe in giving back something to the society from which we earn our bread and butter."
The offer came alive from 1st December, giving probable clients enough time to check and decide on whether to avail the offer or not. By displaying the offer on the home page of the site itself, IT Chimes is sending out clear messages about its intentions of playing it fair and attract enough attention. It can be noted in this context that not many top notch companies subsidize the project costs and thus IT Chimes is also trying to create a separate brand image here.
IT Chimes, which is already known for its low cost solution packages and has grabbed the attention of global industry due to that reason, will expectedly gain more customers through this offer. With big names as their clients and a further deducted cost, IT Chimes is poised to gain considerably from this offer.
IT Chimes, is a web development and SEO solution provider based in India with a global customer base. Established in 2008, the company has served clients from USA, middle east Asia, and domestic clients as well and is poised to enter Australia. The company has some big names as their clients and a proven track record of serving the clients with innovative and latest solutions.