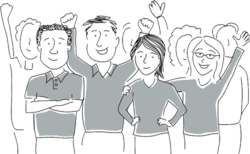 By using the employee engagement dashboard, companies can quickly and clearly identify global as well as localized engagement problems.
San Mateo, California (PRWEB) December 11, 2012
Custominsight has provided online HR assessment and development tools to companies since 1998. Now its reach goes beyond creating customized 360-degree and employee engagement surveys. The company has developed an easy-to-understand employee engagement dashboard, an invaluable tool to interpret survey results.
Custominsight's flagship Focal EE was the first step toward creating a more broad-based, employee engagement assessment. Analyzing how a company functioned had to go beyond employee satisfaction. After years on the market, Dave Gutzman, CEO and founder, says that he and his associates found some commonalities. "In our experience, most engagement issues are local." However, interpreting survey results was time-consuming.
With the dashboard, Custominsight offers businesses a quick, accurate assessment of their engagement issues. Gutzman explains, "By using the employee engagement dashboard, companies can quickly and clearly identify global as well as localized engagement problems."
A company may be grappling with macro issues that need company-wide changes. Nevertheless, there will always be areas that are struggling further down in any organization that have negative impacts on a specific department or area. Gutzman calls these areas "pockets of discontent." The dashboard is an effective way to discover these pockets and assess problems so the company can take steps to prioritize and resolve them. Fast. Gutzman says, "the dashboard is the key to identify a company's trouble spots and highest engagement priorities."
There's always room for improvement, and Custominsight found a need to improve the way they gave companies survey results. "We just want companies to succeed," says Gutzman. "The dashboard is one of the most effective tools we've developed so they can."