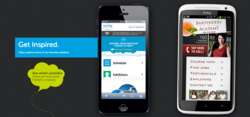 The new website offers visitors a different experience in searching for the right mobile solution.
Columbia, MD (PRWEB) December 10, 2012
In just under two year's time, FiddleFly Inc. has undergone some remarkable evolutions. What began as a simple SaaS provider of mobile web building technology, has grown into a worldwide distributor of rapid mobile development software along with housing a creative team that produces some of the most innovative mobile experiences in the industry. Now, with 2013 approaching, FiddleFly looks to take things even farther.
The new website, which launched on December 3rd, aims to offer visitors a different experience in searching for the right mobile solution. With a focus on creating conversations about the mobile landscape rather than simply selling its services, FiddleFly guides visitors through the experience of getting acclimated with and taking advantage of the fastest growing web industry.
Along with the launch of the new site, FiddleFly has also introduced new technology such as Rapid Graphic Linking, which allows for instant image mapping for internal and external links along with a brand new pricing option to pay for individual sites as they are published.
About FiddleFly, Inc.
FiddleFly was founded in 2011 as a solution for quickly building custom mobile websites. By focusing on building tools for marketers, agencies, designers and developers that cut development time dramatically, FiddleFly has become a favorite of web professionals and has even been named one of Website Magazine's 50 Most Influential Mobile Web Companies of 2012.