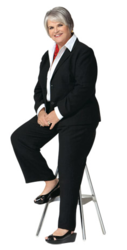 It was my love of family that ultimately got me into real estate 28 years ago and I just think that it's ironic that now real estate has become the family business.
New City, NY (PRWEB) December 06, 2012
914INC. has just unveiled its list of Westchester's most influential women in business and Rand Realty is pleased and excited to announce that it's CEO, Marsha Rand, has been included in this very exclusive list.
914INC.'s article lists 15 Westchester-based women whose careers cover many different areas including art, entertainment, education, innovation and government. In it, Rand joins the ranks of media and merchandising mogul Martha Stewart, PepsiCo Inc's chairwoman and CEO, Indra Nooyi, IBM Chairman, President and CEO Ginni Rometty, and 11 others. All the women named in the article have one very important thing in common; they have all risen to pinnacle of their chosen profession. Rand is no different.
Rand is the CEO and founder of Better Homes and Gardens Rand Realty. Rand's firm is one of the top 100 real estate brokerages in the United States. In fact, of all the residential firms listed in the United States, Rand Realty comes in at number 87. This is according to REAL Trends magazine, a very well-respected real estate specific research and consulting firm that publishes The REAL Trends 500, an annual research report which identifies the country's largest and most successful residential real estate firms.
Rand started Rand Realty 28 years ago in one small office in Rockland County, with the idea that she could do a better job of demystifying the home buying and selling process for the average real estate customer. She was correct. By hiring and training talented people, offering innovative tools and creating a culture of great service, Rand has grown her modest real estate company into a full service empire that now manages over 25 branches throughout Westchester, the Greater Hudson Valley and now New Jersey. Even with all her success in real estate, if you were to ask Rand what her biggest accomplishment in life has been, she would probably talk more about her family and her four sons than her real estate empire; a trait that earned her the nickname "The Matriarch" in 914INC.'s article.
"It was my love of family that ultimately got me into real estate 28 years ago and I just think that it's ironic that now real estate has become the family business," said Marsha. Her sons Matt, Dan, Joe and Greg are all involved in real estate with Matt and Joe running the day-to-day operations at Rand Realty. "It's such an honor to be included with such an impressive list of business women. These are not just women who are influential in Westchester, but many have national and global reach."
To further celebrate their careers, all 15 women named in the article were also honored during 914INC's Second Annual Women in Business Luncheon at the Double Tree Hotel in Tarrytown, NY on November 29th, 2012. The highly anticipated event was co-sponsored by many Hudson Valley-based businesses and drew an attendance of over 450 people.
To read Marsha's profile or for a complete list, please visit http://www3.randrealty.com/marsha-rand-westchesters-most-influential-women.
ABOUT BETTER HOMES AND GARDENS RAND REALTY
Better Homes and Gardens Real Estate - Rand Realty, founded in 1984, is the No. 1 real estate brokerage in the Greater Hudson Valley with over 25 offices serving Westchester, Rockland, Orange, Putnam and Dutchess counties in New York and Bergen and Passaic counties in New Jersey. Rand has more than 800 residential real estate sales associates, as well as a commercial real estate company (Rand Commercial Services), and the Hudson United Group providing residential mortgage lending, title services, and commercial and residential insurance. The companies can be found on the Internet at: http://www.randrealty.com, http://www.randcommercial.com, and http://www.hudsonunited.com. Rand Realty is also on Facebook and Twitter.
ABOUT 914INC MAGAZINE
914INC Magazine is published by Today Media, a family-owned and Westchester-based publishing company that also has a state-of-the-art custom-publishing division, Spotlight Creative Services, which creates and designs brochures, annual reports, catalogs, logos and other promotional material. The organization is well-known for its publications including Westchester Magazine, "an elegant and informative upscale lifestyle magazine, the only monthly consumer magazine focusing on Westchester County and its environs, that explores, investigates and celebrates life in what is without question one of the most beautiful, affluent and vibrant counties in the world." 914INC Magazine is "Westchester's first business lifestyle magazine. With broad appeal, smart writing, and stunning photography and layouts, 914INC. is designed to serve the county's diverse and wide-ranging business community. From perceptive profiles of CEOS and Board Presidents to in-depth reporting on local business issues and business trends to sneak peeks at the latest office gadgets to the best business tips, 914INC. is designed to inform, entertain, and make office life (and, yes, even life after five) even more enjoyable." They can be reached at (914) 345-0601 or mail: Westchester Magazine, 2 Clinton Avenue, Rye, NY 10580