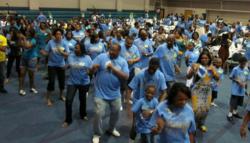 Fayetteville, NC (PRWEB) December 04, 2012
While the central location of the Greater Fayetteville region of North Carolina (halfway between NY and Florida on I95 ) makes it a convenient destination for family reunions, the region offers much more than convenience. Below are 5 top reasons to choose Fayetteville for your 2013 reunion.
One: A reunion in America's hometown provides an opportunity for families to come together to commemorate a family's past, present and future. The community offers venues that engage and enlighten family ties and traditions. The vast majority are free. To name a few:
Evans Metropolitan AME Zion Church - Congregation was founded by Henry Evans, a black shoemaker and Methodist preacher in 1801. His arrival marked the beginning of Methodism in Fayetteville and Eastern NC. For many years, Evans preached to both blacks and whites.
Sandhills Family Heritage Association: offers tours that allow visitors to be immersed in a one-of-a kind Southern and rural African-American cultural experience as told by the descendants of slaves and local community storytellers.
Fayetteville State University: is the second oldest public university in NC and founded as The Howard School for African Americans in 1867. It became the State Colored Normal School to educate African-American teachers in 1877 and today is part of the UNC system. The diverse student body presents a variety of arts and cultural offerings throughout the year.
Two: Fayetteville offers lots of natural spaces for your special event. Many of the region's parks offer large picnic pavilions and have amenities such as 18-hole disc golf course, nature trails, boat rentals, football, soccer and baseball fields, tennis courts and playgrounds.
Three: In America's Hometown, your family can explore the contributions of our military heroes from the Revolutionary War era to today. Consider a group visit to Fort Bragg for a unique experience that may consist of watching airborne training, a jump tower visit, parachute packing demonstration, and maybe eat lunch at a dining facility. Afterwards, tour the Airborne & Special Operations Museum and NC Veterans Park in downtown Fayetteville. Travel the Patriots Past & Present Cultural Heritage Trail for a full list of sites that explore the community's military past and present.
Four: Fayetteville offers an array of special events throughout the month - many free of charge. Of particular interest to groups is Fourth Friday - a free downtown Fayetteville arts crawl held every month except December. For a full list of special events: http://www.visitfayettevillenc.com/events
Five: The Fayetteville Area Convention (FACVB) stands ready to help plan the perfect reunion. Available online, our planning checklist and budget worksheet provide assistance with budgeting and a timeline for planning. With nearly 6,000 hotel rooms at more than 55 hotel properties and a range of meeting space options - space for all budgets and needs.
Ready to move forward and secure spaces and rooms for your event? Contact Shannon Deaton, FACVB Tourism Sales Manager at 910-483-5311 or submit your Request for Proposal online.
ABOUT THE FACVB
The Fayetteville Area Convention & Visitors Bureau is a private, not-for-profit organization responsible for positioning Fayetteville/Cumberland County as a destination for conventions, sporting events and individual travel. For additional information, visit http://www.VisitFayettevilleNC.com or call 1-888-98-HEROES. Fayetteville/Cumberland County is the America's first military sanctuary. Through the Army's Army and other volunteer groups, our citizens and businesses are dedicated to "watching over those who watch over us ©."