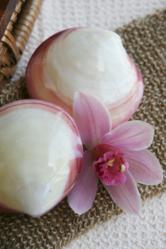 (PRWEB) December 05, 2012
Spa goers to the Sweet Grass Spa will be pleasantly shell shocked by the soothing Lava Shell Massage, a new signature treatment that is making its debut at the upscale Toronto spa.
The treatment uses self heating tiger clam shells from LifeStyle Universal that generate heat through the combination of natural lava minerals, sea kelp, algae, sea salts and retain heat for up to an hour.
The session begins with the application of calming essential oils, then holding the heated shells in each hand the therapist applies traditional Swedish massage strokes along the entire body.
It would be unfair to say that the hot stone massage is passe, but they're no longer the rage. In some spa's shells are replacing stones as the hottest massage option.
Hot stone massages can carry a premium price tag, and often clients don't get every minute of their money's worth. The process of heating several stones, arranging them on the clients body then rotating them can result in as much as 15 minutes lost within a 50 minute massage. During the hot stone massage, therapists remove their hands from the clients skin several times to grab more stones from the heating appliance. The shells also require much less time than stones to set up and clean.
Many therapists are touting the shells as a time and energy saving solution. The shells from the south pacific when heated with the patented lava blend can reach 120-150 degrees F and give off continuous, consistent heat for up to an hour. Also only 2 shells are needed for a full body massage.
The temperature of the Lava Shells is much more consistent and predictable, plus they feel smoother on the skin says Krista Francescut, spa manager at the Sweet Grass Spa.
LifeStyle Universal brings this breakthrough technology to its clients and also trains spa and health professionals and therapists on best practices and to incorporate it into their treatment plan
For more information, visit http://www.lifestyleuniversal.com or contact the exclusive distributor, LifeStyle Universal Inc., at 416-602-4751 or by e-mail at info (at) lifestyleuniversal (dot) com.