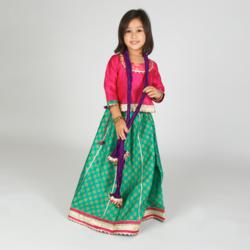 We wanted to our kids to wear beautiful traditional clothes without making the trip to India.
New York, NY (PRWEB) December 05, 2012
Introducing http://www.sImrani.com — an all-new e-boutique offering an array of traditional Indian formal wear for girls ages 1–8. Available merchandise includes lehengas—beautifully embroidered dresses and complementary leggings in berry-bright hues; churidar kurtis—striking silk suits; and accessories—ranging from stacks of bangles to delicate bindis.
Simrani co-founders, Shanon Tuli and Ashees Jain, launched the website with the ultimate goal of ensuring that traditional Indian children's clothing was more easily accessible in the United States.
Shanon and Ashees each offer a distinct professional approach to this unique e-commerce endeavor. Shanon brings with her a clear creative vision, stemming from her rich experience at three of the most celebrated fashion magazines—InStyle, ELLE, and, currently, Harper's BAZAAR. Ashees, has always had an entrepreneurial spirit and was also keen on leveraging his experience for a venture that hit closer to home.
Each of the pieces available for purchase on http://www.simrani.com is handcrafted in small batches in India. Comfort, and quality of materials—from swathes of semi-brocade silk to luscious layers of dupion—are paramount – and comfort reigns queen.