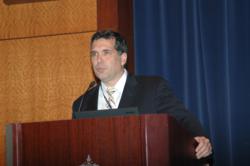 Modernization efforts are a critical business issue.
Hartford, CT (PRWEB) December 05, 2012
NEOS LLC, a technology and modernization consulting firm, was a lead sponsor in the Connecticut Technology Council's (CTC) 2012 IT Summit. The event, which attracted over 160 technology professionals, discussed the theme of Big Data in the context of business impact, mobile and cloud delivery, modernization of legacy platforms, Big Data analytics and project delivery through agile implementation.
The theme was derived from business drivers such as regulatory compliance, better analytics and consumer insight which have highlighted the need to deliver information through modern architectures and organizations more efficiently and effectively than ever before. One major message from the event was that modernization efforts are a critical business issue, just like sales and operations, and should not be confined to solely 'cost savings' projects.
Business leaders were pulled together from across the country, in a number of industries, and from organizations both large and small, in a collaborative environment to share their experiences with technology professionals. "There are many things transforming IT, including cloud, distributive workforce and outsourcing. To make a modernization effort successful, companies need to focus on their business processes, their operations, the data that goes through their operations and their technology," said Ernst Renner, CEO and Managing Partner, NEOS LLC.
Multiple discussions throughout the day were enlightening and interesting. While discussing the management of Big Data, and its complexities, the executive panel and participants brought up a myriad of issues, such as the need for diversely skilled people and the importance of a culture of curiosity and collaboration. During the discussion on business and technology modernization, executives agreed that there is a trend to doing what is more manageable and achievable. "There is a paradigm shift about how organizations think about conversions," said Renner.
"This event has seen increased attendance since its inception in 2009, bringing topical content to the region's IT professionals," said Mike Scricca, Director of Membership, Connecticut Technology Council. "All of the panelists were experts in their field resulting in a program that delivered valuable content to the attendees."
About NEOS LLC
NEOS is a management consulting and technology services firm with unparalleled experience in holistic modernization, enterprise data and business operations consulting throughout the US, Europe, the Middle East and Asia. Clients range from large mid-cap companies to the Global 1000 segments including financial services, insurance and media. Services also include process, organizational and operational consulting, enterprise architecture strategies and design, reviews and planning, deployment and data analysis. NEOS is the parent company of Vgo Software that specializes in modernization analysis and conversions solutions.
About the Connecticut Technology Council
The Connecticut Technology Council (http://www.ct.org) is Connecticut's industry association for the technology sector. CTC's mission is to "connect people, ideas and opportunities to the global technology and innovation community." CTC provides members with business assistance and specialized programs, in addition to promoting and supporting public policies that globally position Connecticut's "culture of innovation" that helps attract great ideas and entrepreneurs to develop new jobs and wealth for the state.