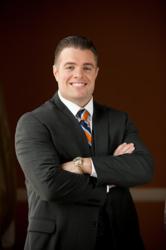 Deerfield Beach, Florida (PRWEB) December 04, 2012
Thomas Anthony Guerriero, the CEO of WMX Group Holdings, Inc. (WMXG:OTCBB) officially launches their new WMX Executive Wealth Management Training Program provided through their wholly owned subsidiary, the academic institution CIT Cambridge Institute Of Technology Christian University.
The WMX Executive Wealth Management Training Program has two modules:
Module One for Professional Licensing (Day1- Day 60)
This the education prep training courses to pass the Series 65 & Series 63 Exams
The Topics covered in this module of the training program are:

CIT 465 Economic Factors and Business Information
CIT 565 Investment Vehicle Characteristics
CIT 665 Client Investment Recommendations and Investment Strategies
CIT 765 Legal and Regulatory Guidelines, Prohibition and Unethical Business Practices
CIT 865 Retirement Planning
CIT 463 State Securities Acts and Related Rules and Regulations
CIT 563 Ethical Principles and Fiduciary Obligations in Portfolio Management
Professional Practical Training Courses (Day 60 – Day 360)
These practical training courses are to professionally prepare individuals for the rigors of the for the industry.
CIT 550 Sales & Leadership
CIT 575 Management & Decision Making
CIT 600 The Innovation Process: Developing New Systems & Ideas
This is the comprehensive training program is the most comprehensive in the world on preparing wealth advisors and financial advisors to succeed in the financial services industry. 99% of investment professionals quit after their first year in the business, due to not being properly educated to succeed the rigors of the profession. WMX prides themselves on taking a comprehensive approach in educating all our Wealth Advisors to succeed in this 21st Century global business world. In their eyes failure is not an option for any of our advisors. Practical experience is paramount in an advisor's professional development. WMX is proud to have the top training program in the world in developing talent to reach their true potential. Our team leads by example every step through this professional training program, while providing all the tools, knowledge and experience necessary for success with WMX.
NON REFUNDABLE POLICY DISCLOSURE: Do Not Apply to or Enroll In The Training Program Unless You Are 100% Confident It Is For You. There is a nonrefundable cost associated with enrolling of $1950. This is 100% NONREFUNDABLE for any and all reasons. It is nonrefundable whether you last one day, one month or beyond.This business is not for everyone and is a commission only position upon completion of the training program. We pride ourselves on educating individuals on succeeding in this profession. The education taught in the training program is both through practical training as well as emphasizing the academic tools needed to pass professional licensing exams.We are confident in our education model to teach and develop some of the best prepared individuals for the rigors of this profession to increase the probability for their future success in the most competitive business in the world.
Safe Harbor for Forward-Looking Statements
This press release contains forward-looking statements within the meaning of Section 27A of the Securities Act of 1933, as amended, and section 21B of the Securities and Exchange Act of 1934, as amended. Readers are cautioned not place undue reliance on these forward-looking statements, which are only predictions and only speak as of the date hereof. Forward-looking statements usually contain the words "estimate," "anticipate," "believe," "plan," "expect," or similar expressions and are subject to numerous known and unknown risks and uncertainties. These risks and uncertainties could cause the Company's actual results to differ materially those indicated in the forward-looking statements.
Investors are encouraged to carefully review regulatory filings prior to investment consideration. Past performance is no guarantee of future success or that there cannot be losses or business interruption. The Company is in a rapid growth sector that may or may not continue to grow in the future and therefore poses risks that may be different than other investments. Management regularly provides news and additional information believed to be true and accurate at the time of dissemination but has no requirement to modify, comment or change in the future should circumstance change or information prove to be inaccurate for any reason. Additionally, the Company makes every effort to comply with all applicable laws.
Contact:
WMX Group Holdings, Inc.
(WMXG:OTCBB)
Public Relations
info(at)wmxgroup(dot)com