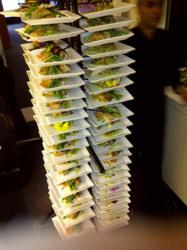 This year, the Toronto-based caterer donated thousands of dollars worth of food to charities.
Toronto Ontario Canda (PRWEB) December 11, 2012
Impeccable Taste Catering recently announced plans to continue its tradition of giving by joining forces with other socially conscious companies to bring cheer to those in need this holiday season. This holiday season, Impeccable Taste Catering Services will bolster its clients' charities of choice through financial sponsorship or the donation of food.
Since its inception, Impeccable Taste Catering has shown support to the local community. This year, the Toronto-based caterer donated thousands of dollars worth of food to help clients raise hundreds of thousands of dollars for their United Way campaigns. Other charitable-giving partnerships include the sponsorship of Richmond Hill baseball teams – enriching the lives of children through sport – and monetary aid to the Toronto Police Service's initiatives serving underprivileged children and youth.
"Our goal has always been to provide clients with the highest-quality food and service, while showing our commitment to the vibrant local community by supporting families and children who need it most," said Rodney Kaufman, President & Executive Chef of Impeccable Taste Catering. "Toronto is a unique mix of individuals from all walks of life, which is why we have teamed up with our patrons to give back in whatever way we can."
Impeccable Taste has also contributed to the charitable efforts of corporations like Gowlings, Aird & Berlis, McMillan, Norton Rose and Goodmans. To find out more about Impeccable Taste's community outreach programs, or to plan your upcoming holiday event, visit itcatering.ca today.
Impeccable Taste Catering consistently delivers quality food that looks as good as it tastes. As far as catering services in Toronto, the service, quality and presentation, like the name suggests, is impeccable, and each event is custom-tailored to suit the unique needs of each customer. Impeccable Taste Catering works with private individuals, companies and corporations in Toronto and the wider Greater Toronto Area markets. Services include expert event planning and catering for casual lunches, seminars, conferences, product launches, release parties, corporate affairs and weddings, among other social events. Born out of the philosophy that exceptional food must not only be meticulously prepared, but also artfully presented, our service offerings include colourful, eclectic and progressive menu options. Visit itcatering.ca for more details.