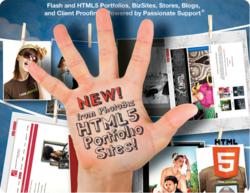 Greensboro, NC (PRWEB) December 04, 2012
PhotoBiz now has HTML5 Portfolio Sites. They are innovative beyond measure, and exactly what creative professionals need to take their businesses to the next level.
"HTML5 is a powerful language with lots of capabilities that previously required FLASH," said Jennifer Roeder, PhotoBiz Marketing Manager. "Our HTML5 Portfolio Sites are built on a new advanced control panel that opens up doors for even more enhancements in the future."
As with any PhotoBiz product they are remarkably simple to use and there are endless possibilities for personalization. They come fully loaded with:

Multiple interchangeable designs
Mobile accessibility – be seen by all devices – computers, tablets, and mobile phones.
Unlimited galleries with 5+ transitions
Unlimited flexible page types
45+ background designs (or upload your own PNG or JPG)
25+ fonts, licensed
50+ royalty-free songs (or upload your own MP3) to play in galleries, including up to three songs back-to-back
Social media icons built into the designs
"My favorite feature of the HTML5 Portfolio Site is the ability to add custom HTML code on the information pages." Says Charity Coleman, PhotoBiz Web Stylist.
What better way to kick off the new HTML5 Portfolio Site designs than to introduce the first two brand new enhanced HTML5 designs?
South Beach. No other place more perfectly represents this vibrant design more vividly. What really sets South Beach apart is the menu rollover design. As the mouse rolls over a menu item a colored bar extends to the top of the design and if there are sub-pages the colored bar expands below to reveal them as well.
Chatham. The second new HTML5 design is understated, yet solid, just like the quaint and walkable town of Chatam, MA. It features left side navigation, and interactive thumbnails below the gallery images. In fact, the thumbnails will "hide" after a short period of time.
And since not all browsers support HTML5 yet, PhotoBiz has enhanced its HTML5 Portfolio Sites with some additional coding languages to make sure that all our HTML5 Portfolio Sites can be seen by all browsers, on all devices.
For more information about PhotoBiz HTML5 designs, visit http://photobiz.com/html5-portfolio-sites.cfm.
About PhotoBiz
PhotoBiz is a managed web solutions company for photographers, creative professionals, and other businesses powered by Passionate Support®. PhotoBiz specializes in designing and hosting FLASH+ and HTML5 Portfolio Sites, BizSites, Stores, Blogs, and slideshow tools for online Client Proofing – all expressly created with SEO in mind. Located in Greensboro, NC, PhotoBiz has a team of Passionate Support® agents to partner with and mentor customers to enjoy an easy, professional online experience. For more information about PhotoBiz, please call 866.463.7620, or visit http://www.photobiz.com.