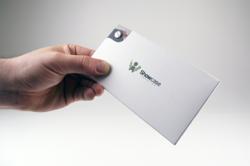 Showcase Creative are shaking up the market.
Camberley, UK (PRWEB UK) 5 December 2012
ShowcaseCreative.com was set up as Folderprinting.co.uk in 2006 by brothers Paul and Jack Batey and their school friend Andy Wreakes. Graphic designers by training, they soon moved into printing and supplying niche presentation products including ring binders and folders after spotting a gap in the market for bespoke items in short runs at an affordable price.
But as digital technology has continued to evolve, bigger companies mass-producing products threatened to overwhelm them, until the trio found a new printing niche to make their own – producing desirable products in custom runs at a fraction of the cost of other printers.
Paul Batey said: "We are shaking up the market by providing products that are usually difficult and expensive to produce at prices that are much more accessible. We also offer a bespoke service for graphic designers who perhaps only want a small number of printed folders and are fast becoming the go-to printing firm for those unique print jobs. We knew that graphic designers struggle to get one-off print jobs or small runs on particular items that are usually only available in larger quantities and saw an opportunity to turn things around by offering niche quality products at low cost and with small print runs. That way, we could support the graphic design community while cornering our own part of the market."
The Surrey-based printing company, whose clients include Bang & Olufsen, the NHS, LinkedIn, HSBC and MTV, are already seeing great results from this rethink of their business strategy and have high hopes for the future of their expanded high-quality folder printing and presentation product lines.
Already well known for their custom corporate presentation folders, ring binders and printed folders available for short runs at cost-effective price, Showcase Creative has added new products to give its clients even more creative and impressive options for professional packaging. These include mini portfolios and an eco-friendly and lightweight CD packaging they call the CD Digifile.
The strong graphic design background of the founders of the Camberley company means clients have access to high standards of artistry and quality in the presentation products the company offers. They have a choice of supplying their own artwork, or getting the in-house team to do it for them quickly and at minimum cost.
For more information on the variety of presentation products and services offered by Showcase Creative, visit Showcase Creative's new website.
###
For more information, interviews or to request high resolution photographs, please contact Paul Batey on 01276 300151 or email paul(at)showcasecreative(dot)com.
Showcasecreative.com – formerly Folderprinting.co.uk – is based in Camberley, Surrey, and specialises in printing affordable and short-run niche presentation products for the UK graphic design community.