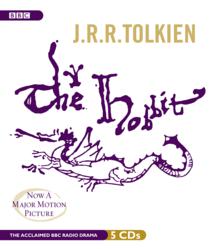 THE HOBBIT has all the ingredients of epic fantasy and adventure...
North Kingstown, RI (PRWEB) December 07, 2012
Before Peter Jackson's highly anticipated film adaptation, Bilbo's famous adventure was brilliantly brought to life in this full-cast BBC Radio production, available now on CD and via digital download. THE HOBBIT, Tolkien's prelude to THE LORD OF THE RINGS, has all the ingredients of epic fantasy and adventure: dwarves, elves, goblins and trolls, a fearsome dragon, a great wizard, a perilous quest, and a sensational climax. This dramatization became an instant classic when it was first broadcast on BBC Radio 4, and it continues to delight listeners today.
Bilbo Baggins, the hobbit, is a peaceful sort who lives in a cozy hole in the Shire, a place where adventures are uncommon—and rather unwanted. So when the wizard Gandalf whisks him away on a treasure-hunting expedition with a troop of rowdy dwarves, he's not entirely thrilled.
John Ronald Reuel Tolkien (1892-1973) was a major scholar of the English language, specializing in Old and Middle English. A Professor of Anglo-Saxon (Old English) at the University of Oxford, he also wrote a number of stories, including most famously THE HOBBIT (1937) and THE LORD OF THE RINGS (1954-1955), which are set in a pre-historic era in an invented version of the world which he called by the Middle English name of Middle-earth.
The Hobbit:
5 CDs: 978-1-62064-113-2 • $19.95
Download: 978-1-4056-2942-3 • $14.95
For review copies, contact Amy Ciesielski via email or at 401-295-3830.
About AudioGO
AudioGO, the home of BBC Audiobooks, is a leading publisher of distinctive single-voiced and full-cast dramatized audiobooks in the United States and Canada. We are the exclusive North American distributor for BBC Audiobooks, one of the most prolific publishers of complete and unabridged audiobooks and radio dramatizations in the world today. AudioGO distributes product direct to libraries across North America and to retailers via Perseus Distribution. For more information, visit our websites: http://www.audiogo.com and http://www.audiogo-library.com.