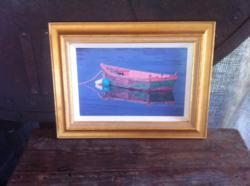 Vero Beach, FL (PRWEB) December 06, 2012
This holiday season, take advantage of Our Boat House's special offers and receiver free shipping on any purchase. Along with the free shipping, the many new additions to the product offering of Our Boat House will make great gifts for loved ones.
The recycled sail cloth bags are durable, beautiful and good for the environment. It will be your favorite casual bag! Our Hatteras throw beds add comfort where ever you are - these great fun throw beds are completely portable and very versatile. The bed is meant to be used as its name implies to just "throw down" anywhere. Indoor or outdoor, country or urban. Our new Giclees are beautiful works of art by a renown artist and make a wonderful focal point in any room.
Our Boat House is a true find of a website developed specifically for coastal homeowners looking for unique ideas and items to decorate starter homes to luxury ocean abodes. The Our Boat House site is a vessel that shares special nautical finds that help homeowners and designers create a beach home style that is comfortable for the entire family - a place to enjoy life and to nourish the soul.
The philosophy of Our Boat House is to combine true nautical elements and a mix of styles, finishes, and textures that all work together to create a unique coastal style. By adding pops of sea glass green, watery blues, and sandy neutrals the relaxed feel of being by the water is created right at home. The current trend of washed reclaimed wood adds a casual beachside element that is best mixed with the classics of the rich woods, leathers, and cottons. The mix of these elements creates a warm, welcoming, and timeless home that is not trendy. Whatever the readers' personal taste - from contemporary to transitional - the content will help capture the drama and mood of the sea and create their own unique sea-inspired escape.
The following are just a few of Our Boat House's other coastal home furnishing selections:
Our Boat House specializes in coastal home furnishings with a classic view and offers two collections of Slipcovered Furniture - The Oceanside and The Harborside - The collections include classic slipcovered sofas, sleepers, sectionals, chaises, chairs and ottomans that are down-filled and designed for extreme comfort and affordability. Relax with the Casual Coastal style of easy-care washable slipcovers in crisp cottons, natural linens, denim, hemp fabrics and more that are replaceable and made in the U.S.A.
Our Boat House offers a collection of accent pieces, accessories, wall hangings, trunks and benches that will add interest, texture, rustic warmth and time-worn imperfection that will turn any space into the perfect coastal paradise. Authentic nautical accessories and treasures from ships from around the world. Hard to find genuine nautical, maritime decor, collectibles and furnishings-sea glass floats, ship's bells, portholes, diving helmets, bulkhead lights, brass binnacles, brass ship lights, passageway lights, fox lights, and so much more.
Make sure you follow us on Twitter.
Become a fan of OurBoatHouse.com on Facebook.