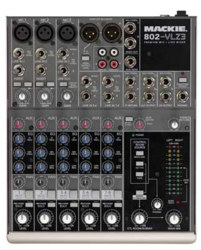 "Beautiful sound [from the Mackie 802-VLZ3] makes my mixes and my music sound so much more professional." –Geo, AMS Customer
Oakland, NJ (PRWEB) December 04, 2012
Mackie® products have been considered a premium choice for musicians and DJs looking for the best sound production for their money. With the Mackie Sale everyone can capitalize on getting first-rate equipment like a Mackie VLZ mixer for their studio or live gigs. The following are the rebates offered by Mackie on the selected products.
Mackie Mixers and speakers included in mail-in rebates
TH15A Thump Speaker $50 Mail-In Rebate on every TH15A ($100 per pair)
TH12A Thump Speaker $30 Mail-In Rebate on every TH12A ($60 per pair)
802-VLZ3 Stereo Mixer $20 Mail-In Rebate
402-VLZ3 Stereo Mixer $10 Mail-In Rebate
Instant rebates on Mackie Studio Monitors
MR8mk2 Powered Studio Monitor $30 Instant Savings per Monitor
MR5mk2 Powered Studio Monitor $20 Instant Savings per Monitor
The price of the product on the AMS website already reflects the savings of the instant rebates.
This equipment is for the person looking for an affordable sound option that can satisfy their musical requirements. Even without the rebates, Mackie gear like Mackie PA Speakers represent good value. However, speakers qualifying for the rebates ordered in pairs receive two mail-in rebates, and there is no limit on the amount that can be had by each individual during the Mackie Sale. If someone were to order three pairs of TH15A Speakers they would receive $300 in savings. Those that have need of a large quantity of speakers could save hundreds, while also getting professional-grade Mackie products.
Musicians and DJs don't have to search from store to store this holiday season for the right sound gear, because Mackie and AMS have it covered with instant and mail-in rebates on high level sound equipment. Better deals on sound gear will be hard to find, and time is money. Don't miss this brief opportunity from December 1st-31st to address something as important as quality sound. This limited time offer will go by quickly, so move fast to obtain the right tools for the job, and don't forget the wide array of Mackie Accessories available. To find more information on the equipment listed in the Mackie Sale please visit the American Musical Supply website.
###
Located in Oakland, New Jersey, American Musical Supply is a leading online merchant of professional and affordable musician equipment and supplies including guitars, amplifiers, live sound, DJ gear and more. AMS offers award-winning customer service and the American Musical Supply website has also been ranked in Internet Retailer's top 500 e-retailing businesses.