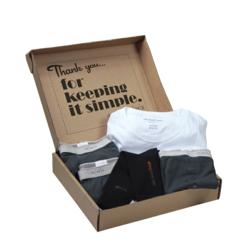 "We choose to worry more about making the best undershirt on the market rather than an undershirt in the latest color of the month," Graham said.
Austin, TX (PRWEB) December 13, 2012
During the depths of the recession in 2009 nearly 30% of American men admitted to wearing underwear at least five years old and, according to global research firm, Mintel, 11% were holding on to skivvies that had reached the decade mark. As shocking as those numbers sound, they would not surprise former Federal Reserve Chief, Alan Greenspan, who astutely observed the close correlation of men's underwear sales to the health of the broader economy in his book, "The Age of Turbulence". The Men's Underwear Index, as this curious indicator has been coined, would suggest brighter days ahead, not only for the nation's underwear drawers, but also the economy as a whole.
New market data from leading U.S. market research firm, The NPD Group, indicates a 6% jump in men's underwear sales so far in 2012, an encouraging sign for startup, Man Made Simple. With the average age of men's underwear officially over-the-hill, the founders believe the recent launch of their premium Pima cotton men's undergarment line and quarterly subscription service offers a simple solution to this epidemic, saving time, shopping headaches and, perhaps, even relationships.
"A man's undergarments are like a second layer of skin. Comfort and fit are the foremost purchase considerations. Unfortunately, shopping department stores for men's undershirts or socks is generally not how men or women prefer to spend a weekend afternoon (yes, over 80% of women buy underwear for their spouse, partner or sons)," said company co-founder, Adam Graham. "This inconvenience makes it unfortunately easy for men to justify wearing old, worn out essentials well past their expiration date. We saw an unmet need for both a service that would eliminate this hassle, as well as a product that was thoughtfully designed and constructed to fit and feel like no other brand on the market."
With a mind to bring innovative comfort to the market, the founders spent over a year searching for the right material, weight, breathability and fit for their products, ultimately leading them to Peru and the luxurious Pima cotton grown there. The resulting branded undergarments, coupled with a fully customizable subscription service, offers men (and the innocent women bystanders in their lives) a fresh, comfortable and convenient remedy to freshen up their typically stale drawer of undergarments.
Man Made Simple's product assortment reflects their desire to focus on classic essentials, albeit with a contemporary, flattering fit. Customers can currently choose from 3 styles of undershirts, 3 styles of underpants, 2 lengths of socks and handsome hardwood and nickel-plated shaving sets available with a Gillette Fusion 5 or classic safety razor compatible head. Shoppers also have the option of subscribing to their quarterly delivery service or a one-off purchase.

"Simple Man" Subscription: 2 undershirts, 2 underwear and 2 pair of socks; delivered 4x/year
Custom Subscription: You pick the items and quantity that you need, delivered 4 x/year.
A la cart: Order any of products without the subscription or any future commitment.
As the name would indicate, Graham says that everything about the brand should convey simplicity, from the service to the website experience to the products themselves. The product line has been consciously limited to the basic, most important items in a man's daily routine.
"We are focused on men's essentials of incomparable quality and understated refinement. Our answer to every business decision is 'keep it simple'. We choose to worry more about making the best undershirt on the market rather than an undershirt in the latest color of the month," Graham said. "We want our customers to spend 5 minutes on our site, place their order, appreciate how easy the process is and be done with it. With our own brand and subscription service, we have a distinct point of difference which many competitors cannot offer and, with the steady improvement in the economy, we feel the timing could not be better."
If the Men's Underwear Index holds true, this could be prescient timing for the company's launch. Industry sales did indeed drop along with the overall economy in recent years. However, after the recessionary slide, followed by a leveling off over the past two years, the strong recovery in men's underwear sales reported by The NPD Group thus far in 2012, certainly appears to be a simple sign of good things to come.
About Man Made Simple: Man Made Simple was founded in 2012. The company's goal is to become the complete solution for a man's morning, from the bedroom to the bathroom to the boardroom (or classroom...or wherever you go), providing the simple essentials a guy needs from the time he wakes to the moment he leaves the house. Their high quality understated undergarments are available via either on a subscription or single purchase basis helping ensure a fresh supply of those products you constantly need, always run out of and hate shopping for.
Man Made Simple worked with San Francisco-based strategic design agency, Deutsche Design Works, to develop their logo and brand identity. They partnered with Denver-based developer Hotpress Web to create their website.