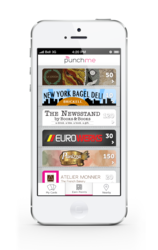 PunchMe is ultimately looking for people who truly enjoy working in an innovative and entrepreneurial culture. We are a fast-growing company and looking to expand our sales team to grow with us as well
Miami, Florida (PRWEB) December 06, 2012
PunchMe, a new mobile app designed to create brand loyalty for businesses while offering exclusive rewards to customers, announced today the hiring of a premier sales force spanning from Jacksonville to Miami. PunchMe founder, Marc Kremer is thrilled to open up doors for future company leaders.
According to Kremer, "PunchMe is ultimately looking for people who truly enjoy working in an innovative and entrepreneurial culture. We are a fast-growing company and looking to expand our sales team to grow with us as well."
The expanded sales force will be responsible for introducing and signing up new merchants to the PunchMe loyalty service. In addition to its fast growing community of users, PunchMe is also significantly growing in merchant sign-ups. Their merchant clientele ranges from businesses such as The Newsstand by Books & Books in Downtown Miami and Bal Harbour, Razzledazzle Barbershop in Brickell, Coral Gables and Miami Beach, Panniza Bistro in Miami Beach, LA Tans and Aesthetic Center in Miami Gardens, and Atelier Monnier in Kendall. These companies are utilizing PunchMe to reward and track their customers in real-time through a personal dashboard that displays the frequency of customer visits, the offers that customers are interested in, and the promotions that work most effectively.
PunchMe not only has an easy-to-use mobile application that serves as a digital loyalty card for iPhone and Android phone users, but its growing network of merchants is giving consumers an increasing number of rewards to choose from. Merchants using the PunchMe system are able to update and add new rewards frequently, giving users the opportunity to eat, drink, shop and indulge with their favorite businesses.
To learn more about PunchMe's new career opportunities, visit PunchMe Careers.
To sign your business up to the PunchMe rewards system, visit PunchMe for Business.
About PunchMe
PunchMe is an innovative loyalty program designed to create brand loyalty for businesses and offer exclusive rewards to users. Useful for businesses of all sizes, the app currently features restaurants, cafes, salons, bars and bakeries that are close in distance from a subscriber's current location. Users then have the opportunity to visit each merchant's venue and make a purchase, scanning the QR code assigned to them on their phone to collect points and earn rewards. Each venue is equipped with an iTouch that records the scans made by each user. Merchants have the ability to personally alter, remove or add rewards that will be immediately reflected on their consumers' mobile phones allowing for unlimited accessibility.