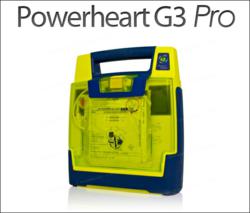 Brentwood, TN (PRWEB) December 05, 2012
PowerheartG3Pro.com was launched to provide potential buyers of the Cardiac Science Powerheart G3 AED enough information to make an informed purchase. The site does more than just provide information about the AED. It contains background information of the company that manufactures the AED – Cardiac Science.
The site includes a helpful FAQ section that will help answer some questions about owning this AED. Some of these frequent questions include the following:

What is my liability if I use the AED?
What is the useful life of a Powerheart G3 Pro AED?
Who can help my facility with the implementation of an AED program?
Also, visitors can find out what products usually accompany the purchase of a Powerheart G3 Pro AED Package and much more. The site is part of the larger company, AED.com, which is headquartered in Brentwood, TN and provides AED products and services to over 20,000 customers in all 50 US states and 35 countries worldwide
.
For more information on the Powerheart G3 AED, please visit: http://www.powerheartg3pro.com/