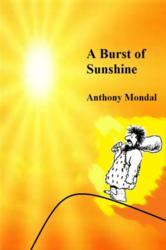 The book is dedicated to Sensitive Kind and Intelligent people, women men boys and girls from all walks of life…for in them lies the dreams hopes and futures of a better Tomorrow.
Let Light prevail and Darkness be gone.
Grand Rapids, Michigan (PRWEB) December 05, 2012
Anthony Mondal is a modern poet and writer. He considers himself simply as an artist beyond the confines of nationality and religion. He published his first book of poems under a different name. The collection was entitled Dialogues with My Self.
He lived in New York City for almost ten years where he also pursued acting and song writing. He has appeared in the film "Sabrina" and the TV show "Strangers with Candy" (2000). He received his BA from Calvin College in geology in 1995. He worked in World Trade Center Building One in 2001. Currently he is working on an existential novel tentatively named "In Search Of" and other writing projects. He has also worked on a number of poetry videos while living in London, UK (Wake up Call and The Blessed Rain), which is currently available on YouTube. The writer currently appears on the Storm Books website, based in the UK.
A Burst of Sunshine is Mondal's second published book.
A Burst of Sunshine is a 64-page paperback with a retail price of $12.00. The ISBN is 978-1-4349-7338-2. It was published by RoseDog Books of Pittsburgh, Pennsylvania. For more information, or to request a review copy, please go to our virtual pressroom at http://www.rosedog.com/pressroom or our online bookstore at http://www.rosedogbookstore.com.