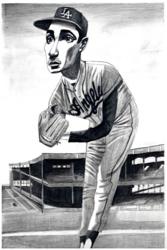 (PRWEB) December 06, 2012
Storyopolis Art is honored to have these amazing portraits by Mark Ulriksen. His work truly captures the soul of each revered Jewish athlete. This is a perfect and historically fascinating gift for Jewish sports fans young and old.
This unique and timeless collection of portraits depicts some of the most influential and unexpected pioneers in the world of sports. The new book entitled "Jewish Jocks; An Unorthodox Hall of Fame" edited by Franklin Foer and Marc Tracy inspired Ulriksen's collection of portraits of Jewish Jocks. Ulriksen illustrated the book cover and 14 black and white pictures in the book itself. The book features work by today's preeminent writers. It has many interesting essays that explore significant Jewish athletes, coaches, broadcasters, trainers, and even team owners (in the finite universe of Jewish Jocks, they count!).
The portraits give us wonderful images of amazing people in sports history. For example, featured in this collection are boxing champion Benny Leonard and the tough as nails Jewish quarterback Sid Luckman who changed the game of football.
My artist Mark Ulriksen said "When I was asked to illustrate a book about Jewish jocks last winter I immediately thought of doing portraits of Sandy Koufax and Hank Greenberg. And then my mind went blank." Ulriksen goes on to state,
"It turns out there are more than a few Jewish sports figures and thousands upon thousands of Jewish writers. This book is a cool compendium of great contemporary Jewish writers on a number of interesting characters." Ulriksen's portrait collection made available to you through Storyopolis Art is an amazing compliment to the stories in the book.
This is another incredible addition to what is becoming the most recognized and respected online gallery of both contemporary art and illustrations from children's picture books. Storyopolisart.com boasts the work of many of the greats which includes William Joyce, Anita Jeram, Tim Burton and the incomparable work of Gary Kelley, who has received 50 Society of Illustrator Medals. Furthermore, our new online site includes the contemporary art of Glenn Barr, Chad Attie, as well as, Yvett Gellis, the abstract artist that is taking Los Angeles by Storm. Matthew Abramowitz states, "We pride ourselves in having a sought after collection and making available to our clients, art that is among the finest the world has to offer. Our long history, knowledge, experience and expertise enables us to acquire amazing pieces of which our clients dream."
Mark Ulriksen's entire collection and the entire Storyopolis gallery can be viewed and purchased at storyopolisart.com or do please call with inquiries to 214-796-6556.