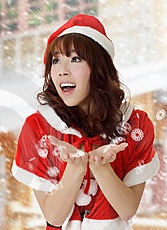 Guys can head to this fun, interactive Facebook page to find gift recommendations and connect with their own personal gift advisor.
Phoenix, AZ (PRWEB) December 04, 2012
Every year guys have the same problem. They want to make the women in their life happy, but can't figure out what to get their girlfriend, wife, fiance, daughter or mother for Christmas. What most guys don't know is that there are motivated and qualified women out there who are more than happy to help. These women are professional independent consultants who can help guys figure out exactly what will make that special someone smile on Christmas morning.
Who Are These Magical Helpers?
No, they're not elves. They're independent direct sales consultants who are experts on the products that they sell. So why do they do it if guys don't pay them a fee for being a Personal Gift Advisor? For one thing, they enjoy helping people. Plus, they get a commission from the company they represent every time they help someone out. They can give guys personal attention and special recommendations tailored for their unique ladies.
How to Find a Personal Gift Advisor
The direct sales experts at FindSalesRep.com came up with a way to make finding a personal gift advisor easy and fun. People looking for representatives (or reps) from a specific company can always head to FindSalesRep.com to find a national rep, or a rep near them. However, often guys aren't sure what company sells products that the women in their life would like, so they don't know what to search for. This year, the editors of FindSalesRep.com have brought together the best of their online network of thousands of independent consultants to create two new resources.
The "What Women Want Shopping Made Easy For Men" Facebook Page
Guys can head to this fun, interactive page to find product and company recommendations, as well as ask questions and find their own personal gift advisors on Facebook.
The "What Women Want Shopping Guide" on the FindSalesRep.com Blog
In this guide, the editors of FindSalesRep.com have already done most of the work by gathering some of the most sought after gifts and top personal gift advisors to help guys on the path to Christmas giving success. They'll be adding to this list throughout December, but early shopping is recommended to avoid product sell-out and extra overnight shipping fees.
Here's a preview of some of the products and gift advisors in this year's guide.
Category: Jewelry and other Shinny Gifts
Gift Advisor Profile: Kim Newsom
Kim is an independent representative for Silpada. Here's what she has to say: "For the perfect gift, I recommend The Brilliance Bangle - a cubic zirconia bracelet ..."
Category: Home Decor Gifts for Beautiful Living
Gift Advisor Profile: Theresa J Ferrari
Theresa is with Uppercase Living and distributes products that improve the decor of any room in your home. She says "Uppercase Living decorative vinyl expressions have that hand painted elegant look without all the fuss of painting. Try a Rectangular Frameworks frame with changeable inserts."
Category: Natural Products
Gift Advisor Profile: Susan Urbanek
Susan, a Celadon Road consultant, specializes in natural soaps, as well as other natural products. Her recommendation: "Herbal Foot Soak, Peppermint Foot Scrub, and Peppermint Foot Lotion is a set great for pampering! (found under the "Relax" category)."
This is only a small sample of the categories, Personal Gift Advisors, and gift recommendations available. Check out the "What Women Want Shopping Guide" at NetworkMarketingDistributor.com for the rest.
About FindSalesRep.com
FindSalesRep.com, the original online resource for finding representatives from any Network Marketing company, has been connecting people with Direct Sales and Network Marketing consultants since 2010. Learn more here.