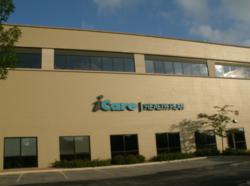 In pursuit of our mission to improve the quality of life for people with disabilities, iCare will continue in its efforts to increase access to care.
Milwaukee, WI (PRWEB) December 06, 2012
Ever on the look-out for opportunities to expand its brand of health care coverage for Wisconsin's disabled and low-income residents, Milwaukee-based Independent Care Health Plan (iCare) will begin marketing its Medicare Advantage Special Needs Plan (SNP) in Dane, Oconto and Shawano Counties this fall.
In addition to its service area expansion, iCare is opening its first off-campus office at the N.E.W. Curative Rehabilitation, Inc. facility in Green Bay, Wisconsin this month. N.E.W. Curative is a private non-profit organization that serves the elderly and individuals with physical and cognitive disabilities.
The arrangement with N.E.W. Curative builds upon a prior agreement to provide staff to serve as HealthGuides for iCare members. N.E.W. Curative HealthGuides represent the interests of iCare members in Brown County, providing personal, face-to-face interaction between the member and iCare's Milwaukee-based care management teams. N.E.W. Curative HealthGuides provide services in the areas of assessment, care planning, medical advocacy, and post discharge follow-up. A similar agreement was arranged with RCS Empowers, Inc, located in Sheboygan, Wisconsin.
Independent Care provides health insurance coverage for over 15,000 people, offering Family Care Partnership and BadgerCare Plus Core programs in addition to its Medicare Advantage and Medicaid product lines. Independent Care owns a 31 percent share of Wisconsin's Medicare Advantage SNP market for people who are dually eligible for Medicare and Medicaid benefits. Besides the counties mentioned above, iCare provides services in Brown, Kenosha, Manitowoc, Milwaukee, Outagamie, Racine, Sheboygan, Walworth, Waupaca, and Winnebago counties.
Originally a health insurance provider for the State's Medicaid Supplemental Security Income (SSI) program, iCare expanded its product offerings into the Medicare Advantage market in 2007. Created in 1994 through a partnership between the non-profit Milwaukee Center for Independence (MCFI) and Humana, iCare commands a 26 percent share of the Wisconsin Medicaid special needs market and plans to provide its Medicaid SSI Plan services in Dane, Oconto and Shawano counties in 2013.
# # #