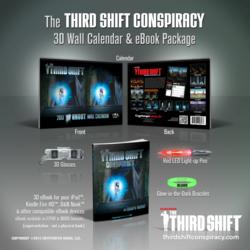 This might be the first time in history that 3D ghosts have come to the aid of soldiers and their rescued dogs. - Ed Raeker, Creator of the 'Third Shift'
Los Angeles, California (PRWEB) December 06, 2012
Ten years ago, the C.I.A. deployed a special team of three highly skilled soldiers with a top-secret 3D surveillance camera on a top-secret mission to verify or disprove paranormal activity at 12 hotspots across the western United States. No one was prepared for what they would deliver - terrifying photographic evidence of real ghosts. Their mission was abruptly terminated and the soldiers of the 'Third Shift' disappeared without a trace. Today, the chilling images captured during their harrowing mission are beginning to surface and evidence is accumulating that the soldiers of the 'Third Shift' are still alive, living as fugitives from a government that wants their silence. This collection of images and the stories behind them is dedicated to the brave soldiers of the 'Third Shift' and making public the startling 3D ghost images that we were never meant to see.
View the 'Third Shift' trailer
From the creator of the 'Third Shift':
"Take a wall calendar: already useful in its own right but kinda ordinary. Rethink that calendar. Design it around a fascinating true story and stunning ghost pictures, then add the third dimension - as in FULL 3D! Attach a companion eBook packed with the ghost stories behind those images. Add some fun bonus swag like a 'Third Shift Conspiracy' LED light-up pen, a glow-in-the-dark silicone bracelet and an expanding story-world of online content. Finally, add a great cause - how about giving 51% of all after-tax profits to veterans' charities? Sounds to me like we have the makings of the most unique and paranormally awesome holiday gift of the season!" said Cryptonym Media's Founder and Creative Director, Edward Raeker.
Product Details:

-12-month grid calendar plus 3-month 2014 preview page (11"x17", opened)
-12 chilling, full-color 3D images
-QR Code on each page that links to additional media-rich online content

80-page Illustrated 3D eBook containing the ghost stories behind the images and the fateful tale of the 'Third Shift' soldiers that captured those images.
Acrylic 3D Glasses
Glow-in-the-Dark 'Believer/Skeptic' Silicone Bracelet
Red 'Third Shift Conspiracy' branded LED light-up Pen
An ever-expanding collection of 'Third Shift' online content
About Cryptonym Media:
Cryptonym Media creates immersive entertainment experiences in a variety of media. With a foundation in entertainment design and social media, Cryptonym Media is uniquely qualified to create and deliver story-worlds that grow organically through engagement with their customers. Cryptonym is, at heart, most interested in telling compelling stories that inspire participation.
About Edward Raeker:
Edward Raeker is a visual artist, author and entrepreneur working in Los Angeles and his hometown of Minneapolis. Edward has worked in film and television for more than 18 years including 9 years in Hollywood as an Art Director and Designer. Cryptonym Media is the culmination of that experience and his drive to create truly uncommon entertainment adventures.
Press/Media Contact:
Interested in learning more? Cryptonym Media is happy to provide an image kit that contains logos, promotional images and product photography. Your interest is valued and every effort will be made to be of prompt service. Please send your inquiries to: