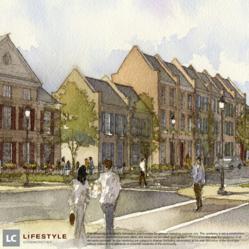 It's more than just great amenities, it's a complete lifestyle, and we're excited to be bringing it to Murfreesboro.
Murfreesboro, TN (PRWEB) December 06, 2012
Lifestyle Communities ("LC") recently broke ground on Henley Station apartments and is set to introduce The Good Life, its unique brand of experiential apartment living to Murfreesboro, TN. Located on Robert Rose Drive adjacent to The Avenue and planned to welcome its first residents in Summer 2013, Henley Station will include 400 one- and two- bedroom townhome-style apartments with modern finishes as well as unique opportunities for residents to socialize including The Goat, a full-service bar that functions as the center of entertainment for the community. With elements like this, it's no wonder LC believes the experience is what will make Henley Station a truly unique place to live.
"At Lifestyle Communities we deliver The Good Life to our customers. We offer more than just a place to live, it's an all-encompassing experience catering to the tastes and lifestyle of young professionals," says Lifestyle Communities CEO, Michael DeAscentis, Jr.
Providing this experience means giving residents access to an array of social spaces and amenities. At the top of the list is The Goat, the perfect backyard gathering spot for happy hours, dinner, and late night, complete with a full menu of homemade burgers, pizzas, salads, sandwiches, and signature items as well as a huge selection of imported and domestic beers, cocktails, and wine. The Goat also offers a full schedule of volleyball leagues on professional sand courts, year-round events, and live music and DJ's.
If that's not enough, there's also Om Fitness Club - a professional onsite fitness center with classes and personal trainers – as well as a spacious pool and sundeck, state-of-the-art community center, and plenty of green space. And, like all LC communities, a full schedule of resident events are offered including social and cultural events, pet friendly gatherings, and the annual canoe trip which is free to residents.
"We recognize that finding the right home these days is about more than just four walls and a roof, and we strive to identify the things that young professionals find most valuable in and around their living space. It's more than just great amenities, it's a complete lifestyle, and we're excited to be bringing it to Murfreesboro," says DeAscentis.
Lifestyle Communities is a housing developer focused on delivering a premier living experience for young professionals through innovative and smart housing solutions. The company currently manages 16 communities in Ohio and Kentucky comprised of over 7,500 apartment, condo, and single family homes. Henley Station will be the first of several communities LC plans to build in Tennessee.
For more information on Henley Station visit LifestyleCommunities.com or follow Henley Station on Facebook.