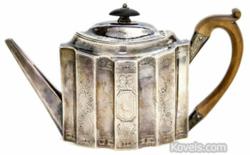 Cleveland, OH (PRWEB) December 05, 2012
Flood damage lasts a long time. To get the value back to your flood damaged antiques and collectibles, Terry Kovel, well-known columnist and author (Kovels.com) offers 11 tips:
1. Examine the stored pieces. If newspaper was used for packing, it should be removed. The printer's ink will eventually stain ceramics and textiles.
2. Check wooden pieces for damage and warped or missing veneer or hardware. Take pictures for your insurance claims. Save any bits and pieces and store in a bag or drawer so they can be part of the restoration.
3. Books and paper may look wrinkled and free of mold if they had little water damage. But check carefully. Sometimes the inside of a book may still be damp or slightly moldy. Put them in a warm, dry place like a sunny window. After a day or two, take the paper outside and vacuum or brush away any mold with a soft-bristled brush.
4. If your collectibles were in muddy water, just rinse off the dirt with clean running water one piece at a time. Do not scrub. It will embed the dirt or scratch the glass or ceramics. Dry with a soft cloth.
5. Shake silver-plated silverware with hollow handles, usually knives and teapot handles, to see if there is water inside the handle. If you hear swishing, you need a professional restorer. If there is a wooden handle or other porous parts, clean the silver with hand sanitizer before polishing.
6. Then you can clean the rest. Wash pieces with a phosphate-free detergent. Most dishwasher and dish detergents are okay. Read the label.
7. Sterling silver should also be sterilized. It can be put in almost-boiling water, a short cycle in the dishwasher without detergent, or cleaned with hand-sanitizer.
8. Dinner dishes and glassware must be disinfected. No matter how clean the dishes look, you should sanitize them if they were in or near flood waters. The easiest way is to wash them in the dishwasher. Sometimes it takes two cycles to clean off mud. Don't worry about the regular rules concerning overglaze decoration and gilding. One wash will not do noticeable damage. It is constant washing that eventually removes the decorations.
9. Check the wiring on any electrical things that might have been water-soaked. Lamps can be rewired but many new electronics will probably be impossible to fix.
10. If you have damaged or melted coins, they can be taken to a Federal Reserve Bank to be replaced. If you have remnants or soggy clumps of dollar bills, you might be able to have them replaced. Mail them to the Bureau of Engraving and Printing, MCD/OFM, Room 344 A, P.O. Box 37048, Washington, D.C., 20013. Send the money first class, registered mail, with return receipt requested.
11. Be sure to keep all bills connected with clean up, restoration, and moving back in. Many will be covered by homeowners, flood, or fine arts insurance. It will take time and a lot of effort. Keep a record of every letter, every visit, and every call about the disaster. You may be asked for the same information several times. And you may have to complain many times.
There is more information about clean-up, insurance claims, and mold problems, in the Kovels' report, "Dealing with Disaster: How to Protect Your Collection From Theft, Fire and Natural Disasters and How to Handle a Disaster If it Strikes."
Terry Kovel will discuss antiques and collectibles topics with accredited media. Photographs are available. Contact pr(at)kovels(dot)com.
About Kovels.com
The online website, Kovels.com, created and managed by Terry Kovel and Kim Kovel, provides collectors and researchers with up-to-date and accurate information on antiques and collectibles. Kovels' Antiques was founded in 1953 by Terry Kovel and her late husband, Ralph. Since then, Kovels' Antiques has continually published some of America's most popular books and articles about antiques, including the best-selling "Kovels' Antiques and Collectibles Price Guide," now in its 45th edition. The Kovels' website, online since 1998, and free weekly email, "Kovels Komments," give readers a bird's-eye view of the market through up-to-date news, auction reports, an online Price Guide, a Marks Dictionary, readers' questions with Kovels' answers and much more.
Contact Information:
Liz Lillis
216.752.2252
Pr(at)kovels(dot)com